Tunisia
Our first proper boarder crossing took about 45 minutes. 10 minutes sorting us
out us (mainly wondering how Ryan had got throughEuropewithout his visa
being stamped) then the rest of the time on the Vehicle. From one little hut to
another getting a stamp here, stamp there, getting someone to sign the back our
customs document to say they had looked in the back (briefly!).
We didn't pay anything. They didn't stamp our Carnet and apparently our European Insurance was valid (even though I doubted it!) There are plenty of people to help if you wish – but we didn't see the need.
It was late – we went to have our first African meal together and celebrate being onAfricasoil. Now we could relax and enjoy our trip.
We camped in the car park by the port by our Swiss friend in his camper van – it was safe, next to the police station and quiet.
Morning bought fellow desert travellers; a UK Landrover club arrived en mass having been dune bashing – all with there expensive equipment. Then a couple of guys from Salisbury area trundled up on their Russian / Ukrainian WW2 era motorbikes and side cars, they had been putting many of the sleek KTM "dune bikes" to shame – but had to turn back from Libya due to the high mileage and their 80kmph top speed.
Keen to see whatTunishad to offer we drove into the traffic, parked up and wondered around the market.
One of the aims of the trip is to update the outside world to what we are doing in real time. Our rush throughEuropemeant that I hadn't been able to update the website – apart from a bit of Facebook / Twitter from theOrangephone. Wifi was supposed to be easy to get hold of – but after a few hours of trapesing around we eventually found a nice hotel that let us use theirs.
Halfway through uploading photographs, we realised that the car was no longer where we thought it was. It had been towed, we parked in the wrong place. 25 Dinars later we had our home / vehicle back! It was time to leave the town and find a beach to camp.
After driving around a bit we eventually found a suitably quite place – there were just two men standing by a car a little way off. Shaun and I decided to go and ask if it was OK to camp. The turned out to be police inspectors – and "no" we couldn't camp there. But we could share a beer with them. After about 30mins of broken French conversation it turned out that the only problem with camping would be hassle from local kids – this didn't bother us. We stayed chatting with the inspectors until the early hours, they were very welcoming. The local police then came to investigate our camp, promptly getting their van stuck in the sand. After a bit of laughter the inspectors used our recovery gear to tow the local police out. We were sure that we would be safe tonight!
The landcruiser was a bit of a mess inside – living in completely different parts of theUKwe hadn't actually managed to pack properly. This place seamed to be an ideal place to re-pack.
The day was spent, swimming in the sea, re-packing, checking the landcruiser and being welcomed by more police, local people and nomadic farmers – but no children like we had been warned. We left what we felt was our first little home to find somewhere else to camp for the next night. Turning off the main road and up some smaller tracks we eventually found a suitable place. After a seriously windy night, the roof top tents had just survived we headed West.
Dougga in theTebersoukMountainswas our first Roman site followed by Le Kef near the Algerian Boarder.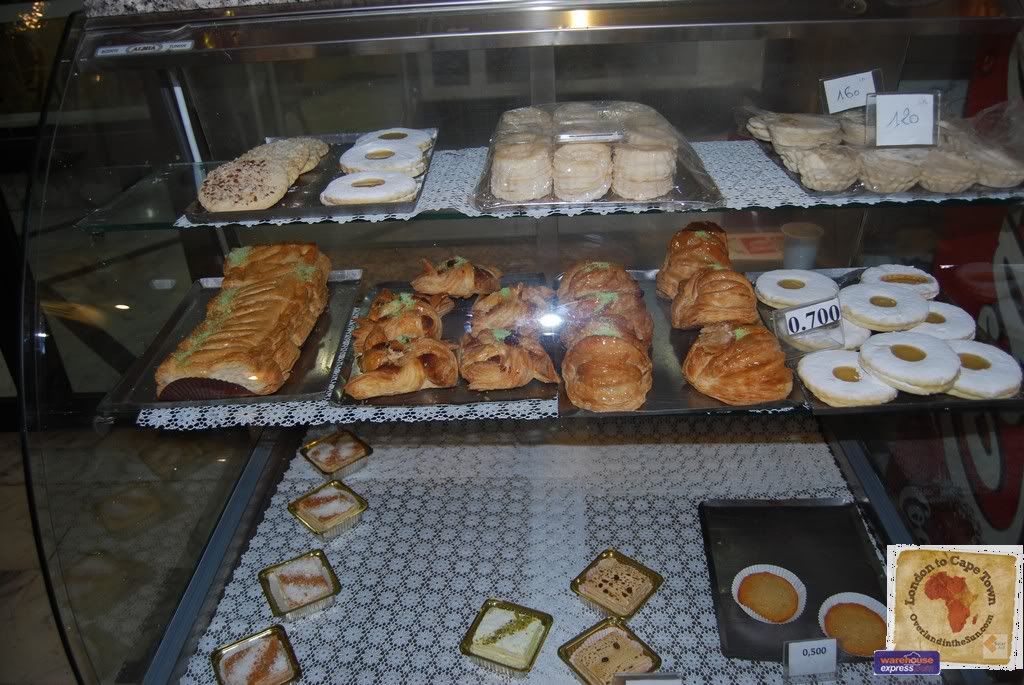 MMM Cake!
Setting up camp somewhere in the Dorsale, we were approached by a local farmer. He drank our tea (after being a bit confused by the tea bags) and offered us fruit, then asked us to come and have dinner with him – we couldn't miss this opportunity!
Following his little tractor down the track to his farm – we wondered what would be in-store for us?
After parking the landcruiser in the barn (I couldn't even begin to explain that I wanted to park it outside, so that when the sun rose in the morning the Solar PV would work before we did!) we were invited into the living room. The house was a traditional Arab style building with a court yard surrounded by rooms. We ate Cous Cous and pomegranate that Mohammed (the farmer) had grown.
Mohammed's father bought us Tea – this was proper tea! And the rest of the family joined us. Having lived with a Sudanese family for many years, I know how important TV soaps are and as soon as a favourite one started all eyes where glued. I recognised the soap – it was Turkish, dubbed into Arabic, most episodes had a least one shooting in it and the background music always makes me smile…
Mohammed then pulled out theDVDplayer and put on a wedding video – we were never quite sure if it was their wedding or not. The groom didn't look much like him, it was hard to tell, but interesting.
After a little interlude of Shaun playing the guitar, we went to sleep. Breakfast the next day consisted of bread and sweet coffee, it was time for us to leave and time for Mohammed to go to work. We had been welcomed as if we were family – an experience that we will never forget and always be thankful of.
The scenery changed quickly, we dropped in altitude, it became drier and more desert like. As with all roads inTunisiathe road to Tozeur was good, it was very similar to driving in ruralFranceall the road signs and systems were all the same.
My father had been to Tozeur in the late 60's, Tourism had continued to expand ever since. It was a bit strange to see western tourists that had just "appeared" there – not having ourOverlandexperience! Some were interested in our trip and a number surprised that we had driven all this way (it isn't that far into the trip!).
To the south of Tozeur there is a large date palm plantation – dates are important business toTunisiaand for sale everywhere. It was one little treat that we all getting addicted too… We camped on the edge of the plantation – it was a perfect spot, we were not disturbed, the sunset and moon were stunning.
Further South of the date palms are the largest salt lakes inTunisia– vast expanses of flat land, with a straight road through the middle.
The last time you will see those shoes on Ryan…now being eaten by Salt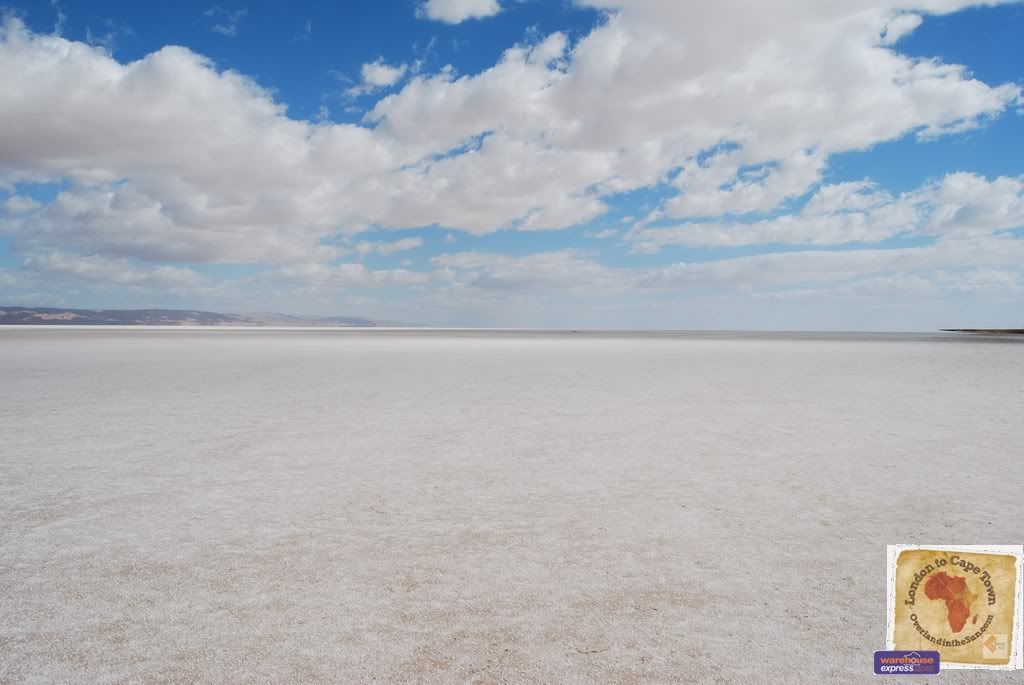 Which way do we go?
Our last night inTunisiawas camping in the desert mountains (Jebel Dahar) near Matmata.Tunisiawas friendly and welcoming, nobody had hassled us or gave us any kind of problem at all, we had spent very little money and felt that the journey had really started.Tunisiadidn't feel likeAfricathough – there are fewer black African people inTunisiathan theUK. It is very organised, much likeFrance. Would we findAfricainLibya– would we even get intoLibya?!
Key Facts – Tunisia
Solar installations; lots of Solar Hot water installations and a few large installations on mobile telephone masts (in the middle of the desert)
Mileage 797
Vehicles, mostly French cars, Peugeot 404 pick ups were the favourite followed by many Isuzus. MostToyota's were foreign owned and the only '60 landcruisers where in Matama – being shredded for parts.
Cost of Fuel D1.05 or D90 (depends on quality)
Coffee, Italians warned me of the coffee – not the fine powder likeItaly and never strong enough. But still nice. The coffee at Mohammed's farm was special!
Food, Pomegranates, Dates, Cous Cous, great tomatoes and wonderful cheap cakes in Le Kef
Other Tea was one the menu again!