I'm now back in the UK (into reality looking for work! ) after 347 days, 20 travelling companions, 27,000 miles, 16 countries, 14 punctures, 4000 hours of sunshine, 750kWhr of solar electricity generated – saving the equivalen
t Co2 of a return flight to Johannesburg.
I made it to Cape Town in September completing my overland journey. The first 24,000 miles (to Mozambique) was completed in a 21 year old land cruiser which I converted to use Solar Electricity.
Raising money and the profile of the UK based charity SolarAid, the journey has been followed by thousands all over the world, on this website, Facebook, Twitter and media articles including NTV Kenya, MBC Malawi, Orange Uk and the Guardian newspaper in the UK. People have watched the journey unfold as it happens, experiencing the un-paralleled friendship, generosity and hospitality of Africans, but also how supporting SolarAid can help to empower (pun intended!) people.
Enduring many challenging, but rewarding situations including; 9 punctures over 130 miles in Northern Ethiopia, being completely self sufficient for 6 days while travelling through the harsh conditions of Turkana in Kenya / Ethiopia and having to visit the police station 3 times in a day in Eastern Sudan. Then in rural northern Mozambique being stuck for 3 weeks with a broken gearbox leading to the end of the Landcruiser's journey.
Not only was the Landcruiser transport and home to the team it was also a Photovoltaic Solar power station. More than simply powering laptops, mobile phones, lights, cameras and to boil water the solar electricity powered the cars cooling fan, power steering, stereo and lights (which would normally be powered by the engine via drive belts) therefore improving the fuel consumption by around 2mpg and saving over 560 litters of diesel the equivalent Co2 of a return flight from London to Johannesburg.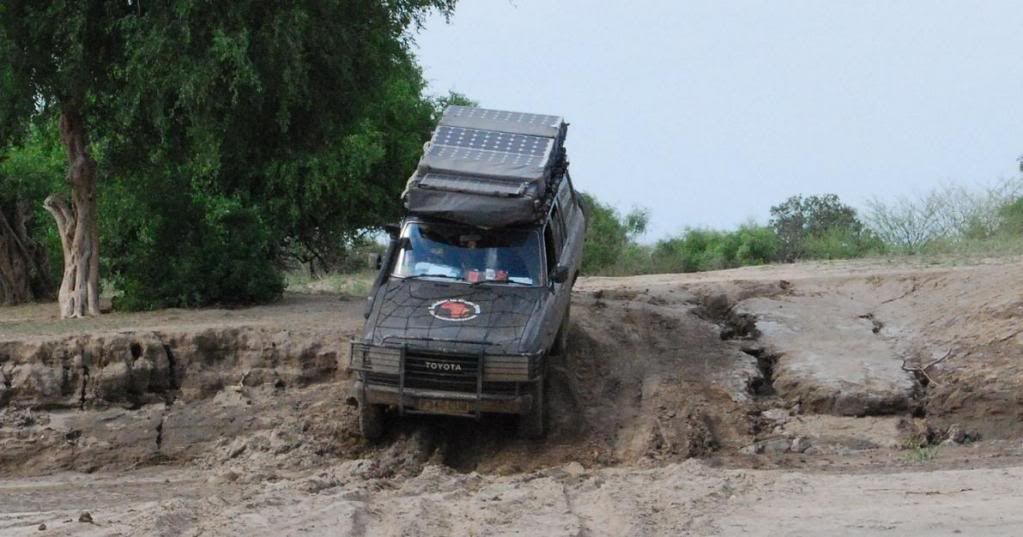 Overtime there will be more updates and hopeful some useful and useless information added to the site – and who knows what ill end up doing in the future!
If you have enjoyed reading the site please donate to SolarAid here www.justgiving.com/overlandinthesun