Firstly, I have to admit that I am am slightly biased about Sudan, it is somewhere that has intrigued me for ages – I just had to visit it properly at some point in my life! I already knew a number of Sudanese people in the UK, some very close to me – so even before we got to Sudan, I had taste for it. 6 months before we left the UK, there were already lots of phone calls and emails being exchanged about our imminent arrival; I knew we would be in safe hands. Amal, family and friends would be looking after us – and generally being amazing for our time (originally supposed to be 1 month!). We would be meeting Amal in Khartoum, so the drive from Wadi Halfa to Khartoum would probably be just on our own (or so we thought!).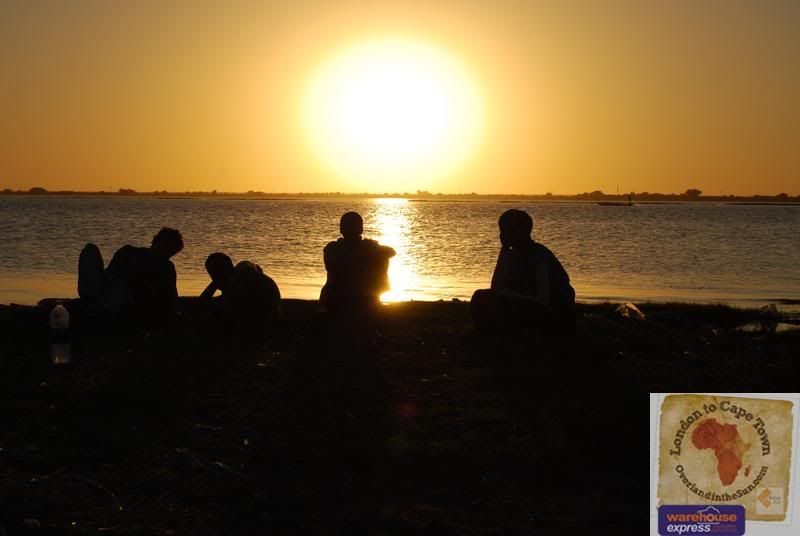 Maybe it was our enthusiasm for Sudan (mine had rubbed off onto Ryan and Shaun by this point) but even Wadi Halfa was an interesting place – all the guide books are pretty negative about it, but the people were friendly and there was everything you needed. Even the Nile Hotel is much better than expected. Both Shaun and I felt that for some odd reason it felt like the Big Chill music festival (albeit with a lot more dust!) Perhaps it was the hills around and the stores selling food, phone cards and the music. It was completely different to Aswan (and the ferry!) we had certainly travelled somewhere new.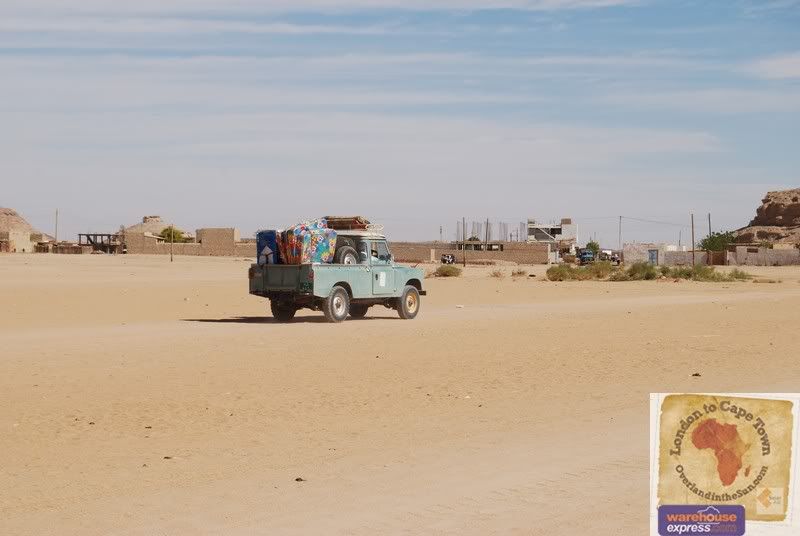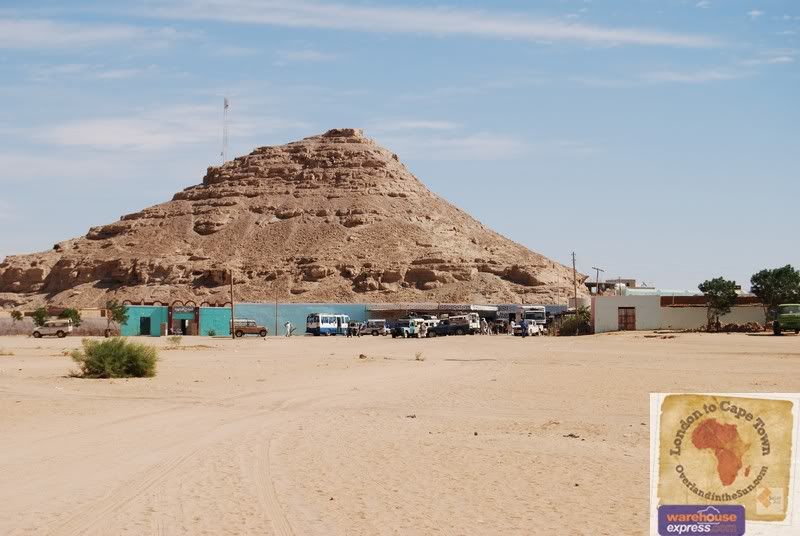 I'm sitting here in the car on Tuti Island thinking about the last two months in Sudan. I don't think we have missed out anything that we could have visited! I can't count how many people we have met, how many people have been so kind to us and how many have helped us in someway – it really is like no other place. Sudan is a beautiful country and has lots of interesting places to see, but the highlight really are the people.
In our first week in Khartoum we visited Juba University. Juba is the capital of Southern Sudan, but there is also a University in Khartoum. We were simply just having coffee outside meeting Amal's friends; there where from all over Sudan, the South, Kordafan, Darfur, North and Khartoum and all great friends. This is when the question first came into my head – my knowledge of the conflicts in the country really didn't make any sense. All the theories behind Darfur and the problems in the South make perfect sense on paper, but when you enjoying coffee with a group of friends from all over Sudan they don't make so much sense. You almost get lulled into a false sense that everything is fine all over the country – but this would be wrong.
The Sudanese generally have 3 questions for us, why are you in Sudan? What do you think of the people? And what was your view of Sudan before you came – did you think it was very dangerous? Sudan is a vast country and while we have driven around 6,000 miles here – we haven't visited the real conflict areas. Where we have visited it has always felt very safe, but we have heard plenty of stories from places that we haven't managed to make it to. There is very little crime and it is interesting to hear the Sudanese view on the countries that we have to come; and their crime rates!
It appears that many overlanders only really see the north of Sudan – this is a shame as there is much more to see. However without local help to sort out some of the bureaucracy of permission – but most of all to give a local insite, we would have possibly done the same.
We had heard in Cairo from people travelling north that the Road to Khartoum down the Nile was now completely tarred. We would be spared of the days of dust looking for the bumpy tracks next to the railway line that the books had promised. In someways it felt like we were cheating, speeding down this nice new smooth black road past the villages along the Nile – where we missing something out? Maybe we were, but we shouldn't be selfish, we only had to drive down this road once, locals have to use it far more often.
Our first night outside Halfa was spent on the banks of the Nile – we had one or two visits to camp, but unlike in Egypt people just left us alone, not really that intrigued by us.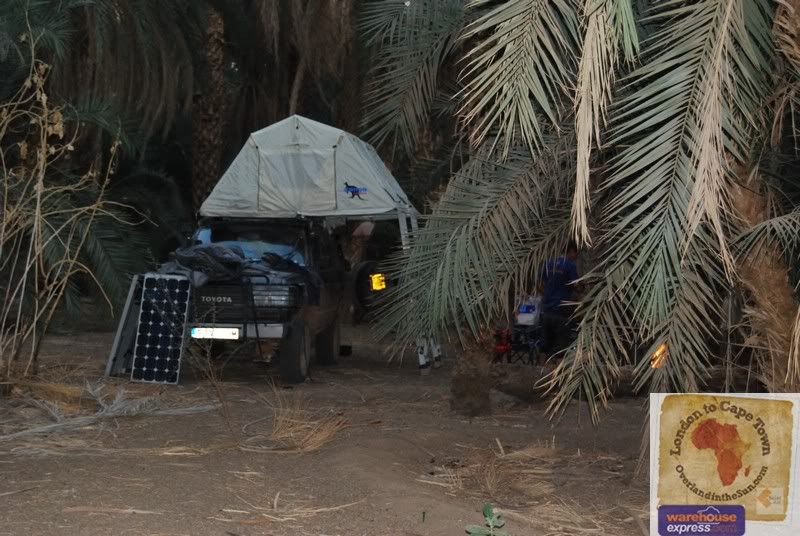 One of the sites to see on the way to Khartoum is Kerma – the town here is potentially the oldest town in Africa – before it was just small settlements. We had met Bakri (a Sudanese guy on his first trip to Sudan since emigrating to New York) and family. He showed us the impressive ruins and invited us back to the family home – this was the first of many amazing Sudanese dinners at home!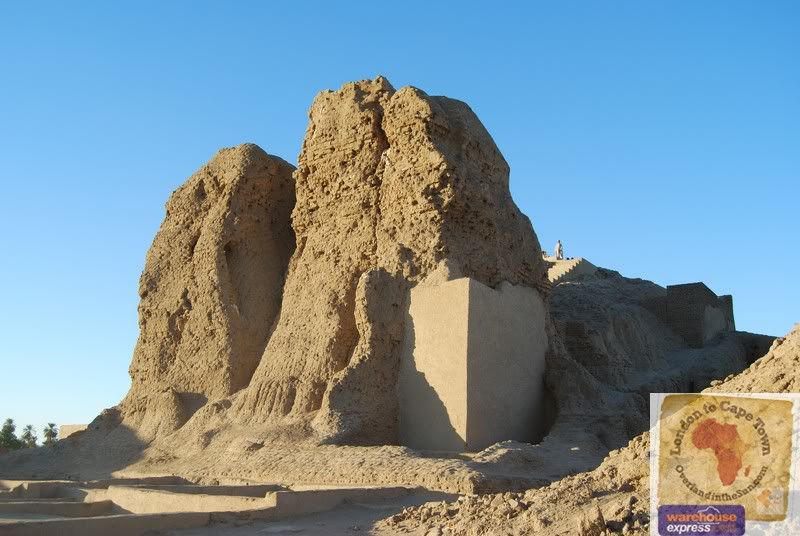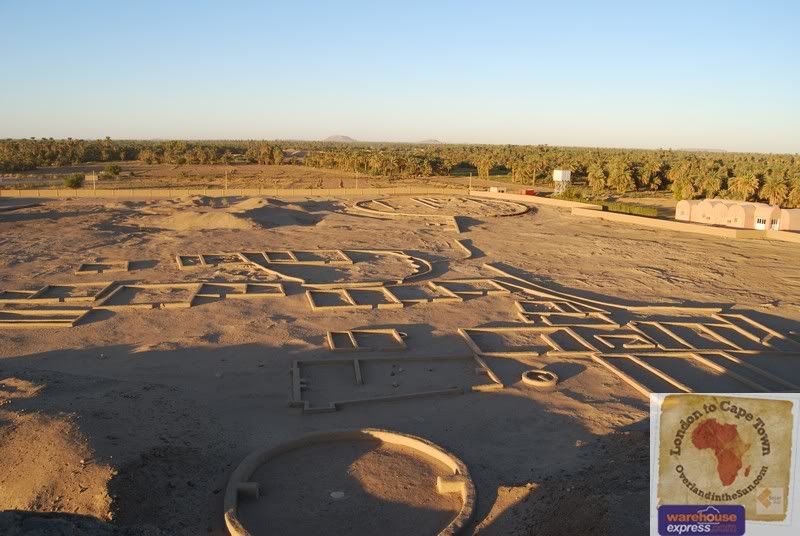 Bakri travelled with us to Khartoum – camping in the desert near Dongola (and stopping there for supplies in the Market)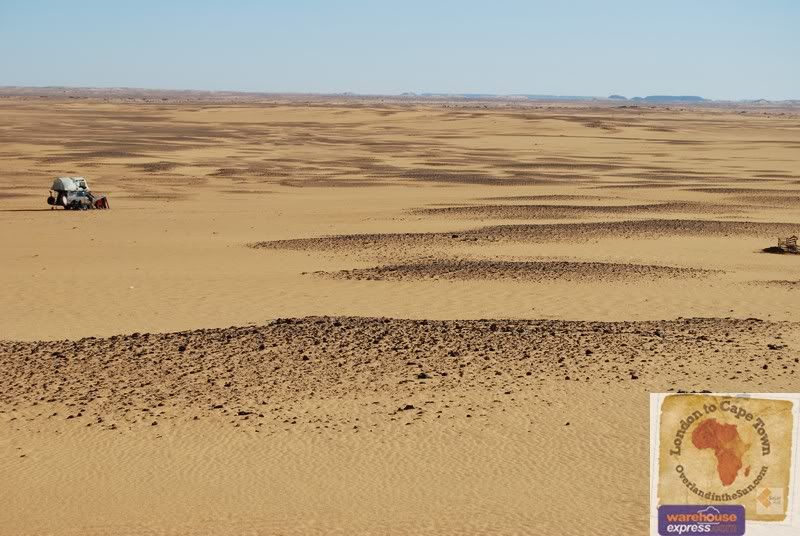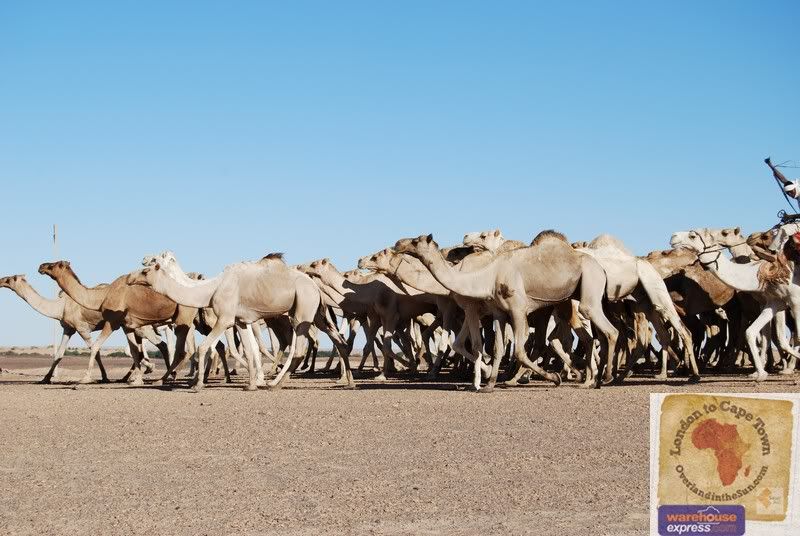 We arrived in Khartoum for Amals birthday – which was celebrated with lots of cake!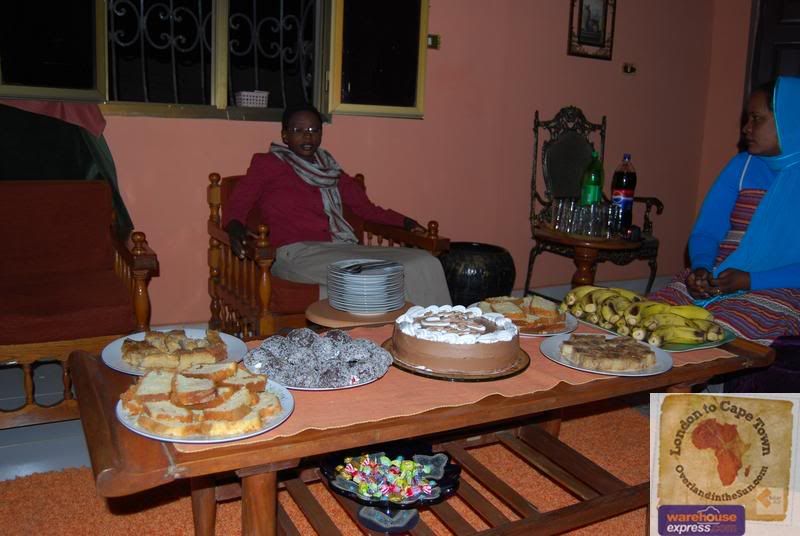 Being lucky soles it had been arranged that we could camp on a small farm on Tuti Island. Not only is it a privilege to be able to camp on the peace of a farm in the middle of a big city (and also not at the Blue Nile Sailing Club like everyone else!) but Tuti island is at the confluence of the Blue and White Nile – it really is stunningly beautiful. My Sudanese friends in London weren't sure if there was a bridge to Tuti that we could drive over and getting to small boat at first to visit the island made me wonder – how are we actually going to camp here with the vehicle?! But Omar and Amal had things sorted for us, there was a bridge – only 8 months old in fact right next to Fatah building.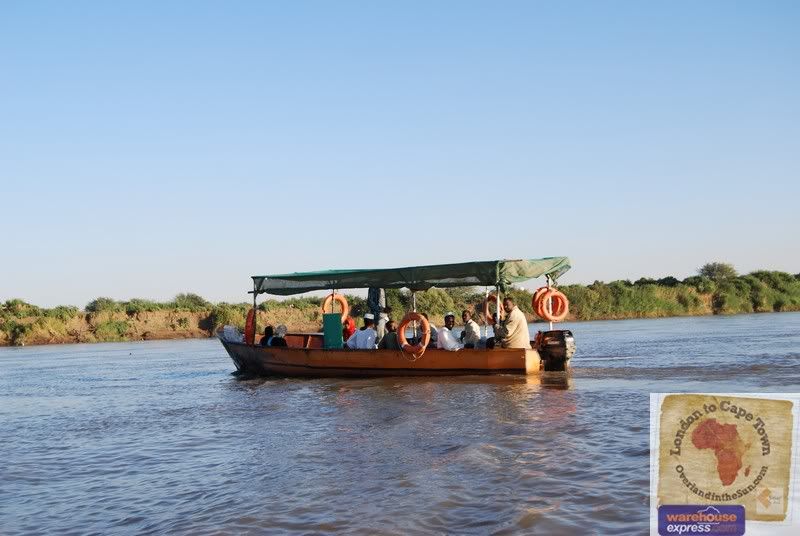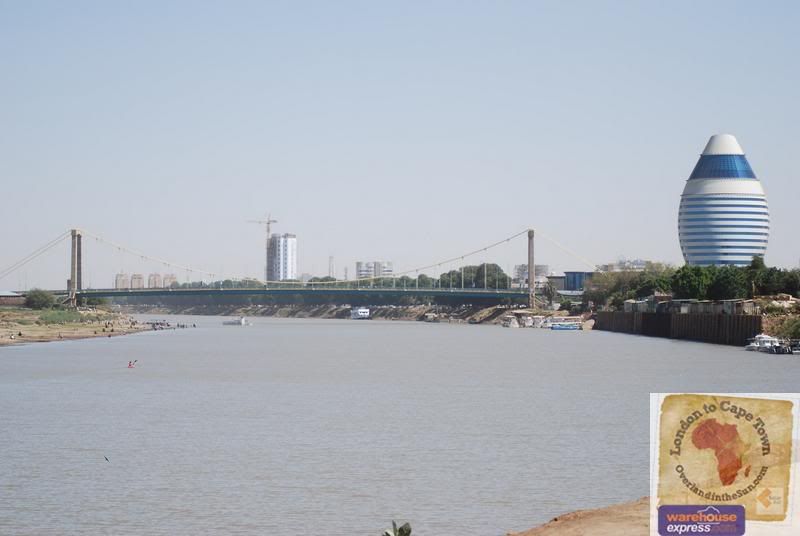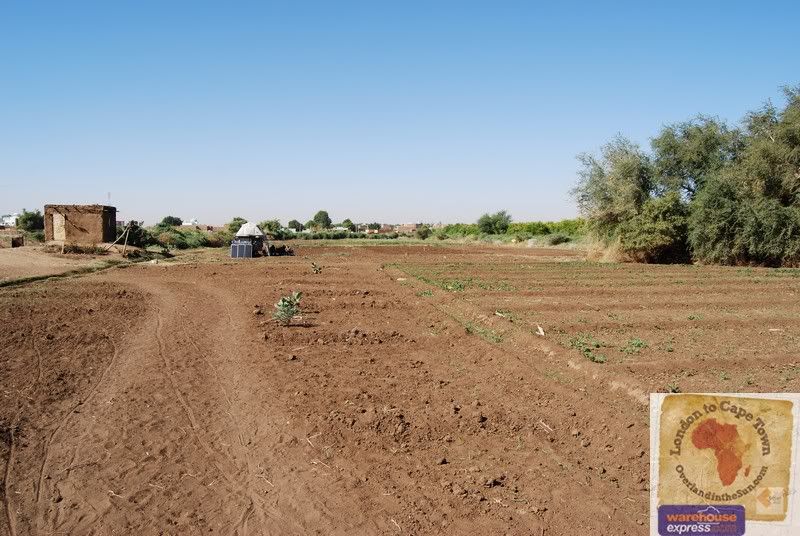 As the Bridge is still pretty new, there are not so many cars there – it is mostly farms. It was great coming back to the peace of rural Sudan after a day in the "noise" (Khartoum is not even remotely noisy compared to Cairo!) of the city.
Khartoum is actually three cities, Khartoum between the Blue and the White Nile, Ondurman (the traditional capital and where the Assembly now sits) on the banks of the White Nile / Nile. On the other side is Bahri or Khartoum North, much industry is based here. Much of our time was spent in Ondurman, it has much more of a local feel and is considerably cheaper for everything. Wether it is a Mango juice, sunglass or rear landcruiser bumpers it is probably around 1/3 the price in Ondurman than in Khartoum. I also found the more "western" the establishment the poorer the product and service (particularly true for coffee!).
We visited all the major sites in the tri city, from Khalifis house (Amals friend Ursula is actually a great granddaughter of the Khalifi) Mhadi tomb, Tabiya fort and much more!.
Taiyba Fort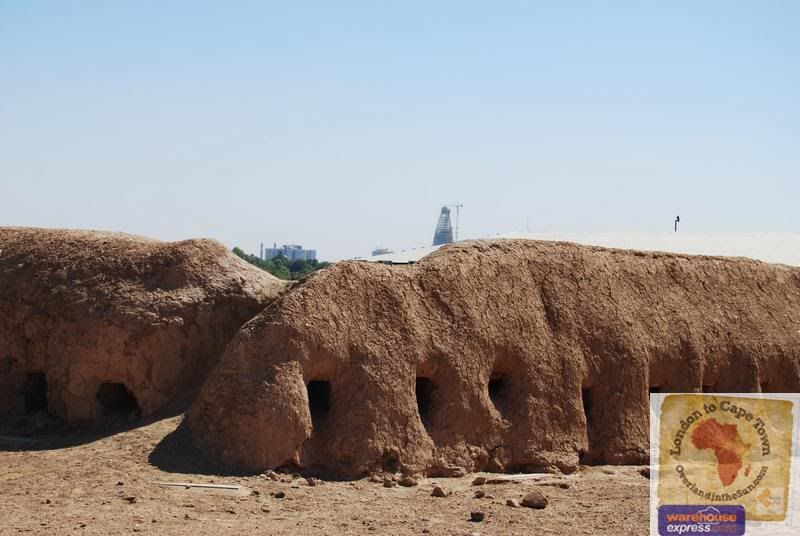 Khalifa museam and the Mahdi Tomb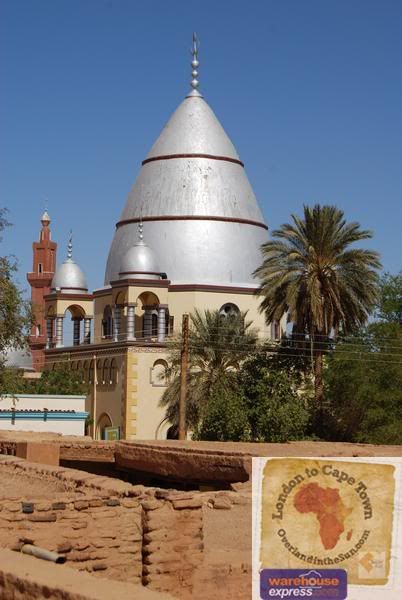 Used to be able to got to Fortnum and Mason in Khartoum!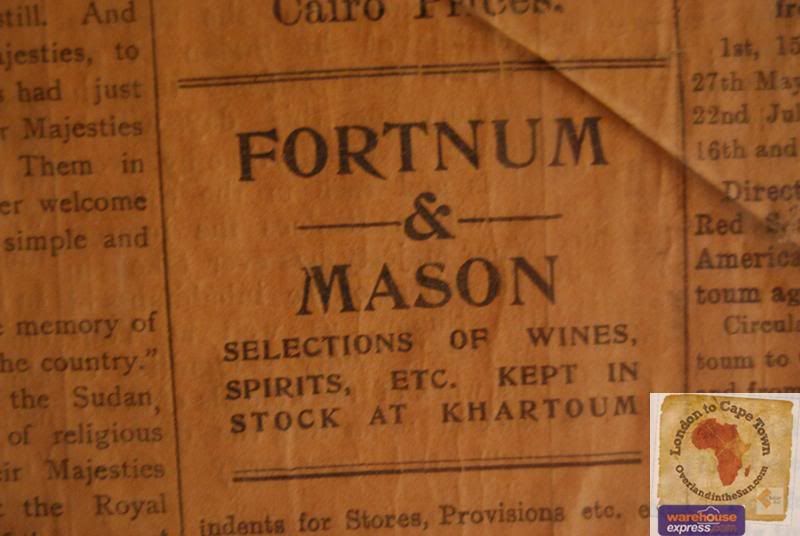 Ondurman Camel Market (they come from all over Sudan, particually Darfur and then are sold to Egypt and Libya for meat)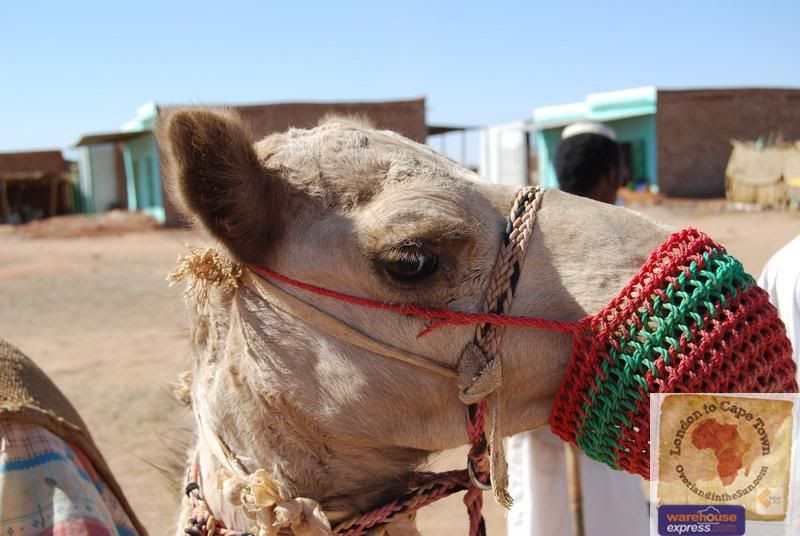 Washing the camel before photo's!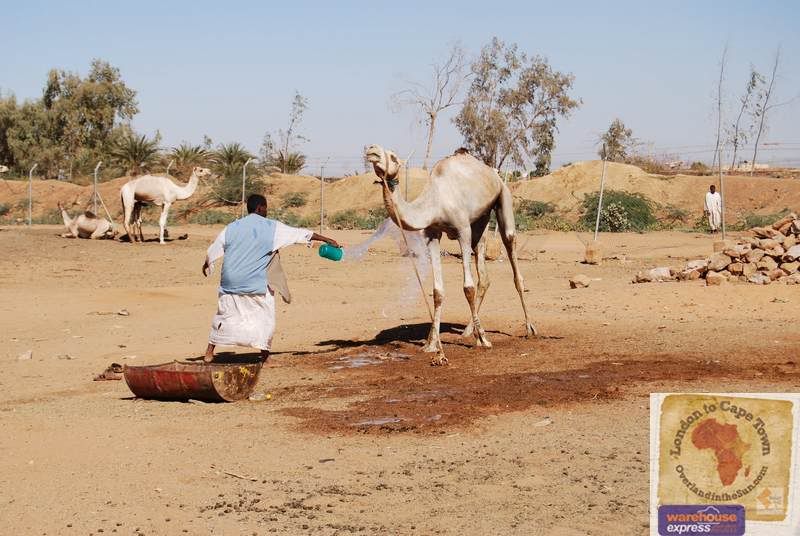 It wasn't just camels….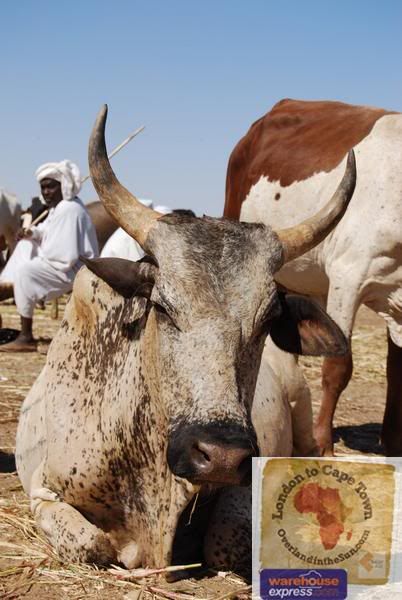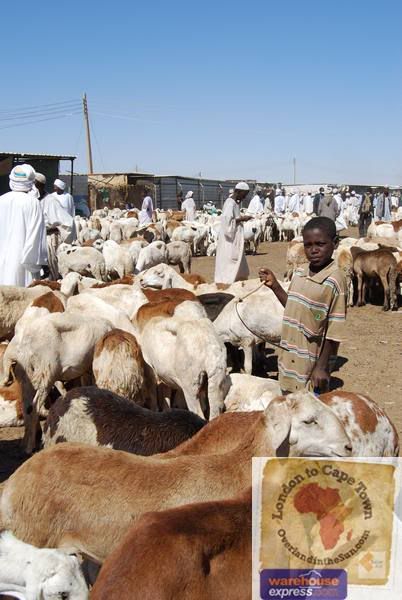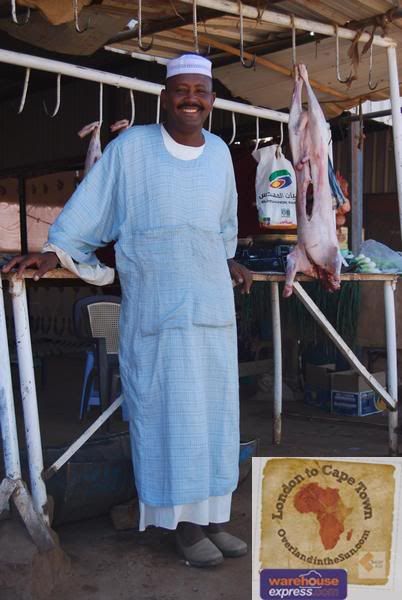 But the best thing about life in the capital was making friends and tasting Sudanese culture. We were lucky enough to see a fair amount of local music including Igdalgalad (apparently Sudans favourite band with influences from all over the country) and music / dance from the South.
(These pictures are just for Fatima!)
We visited a Southern Sudanese church, st Peters and St Paul, where they where celebrating Christmas.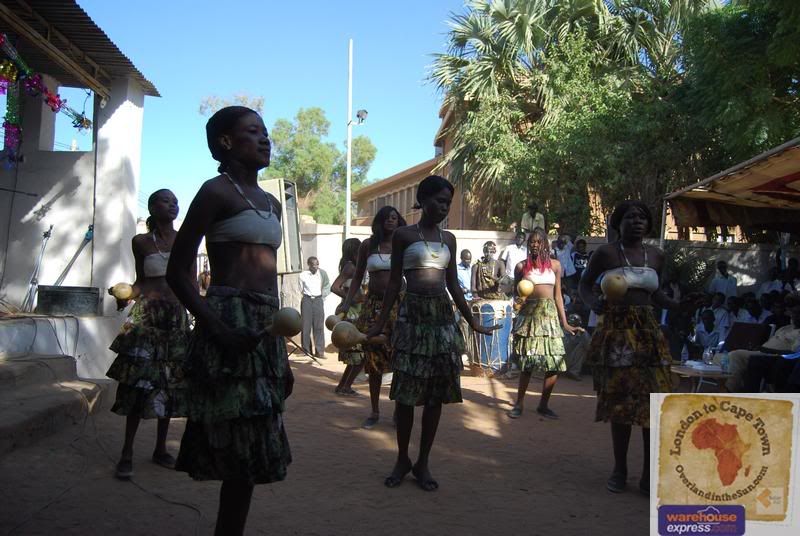 On Firday night for Hamed al-Nil Tomb in Ondurman
Sudanese Wedding (Amals friend)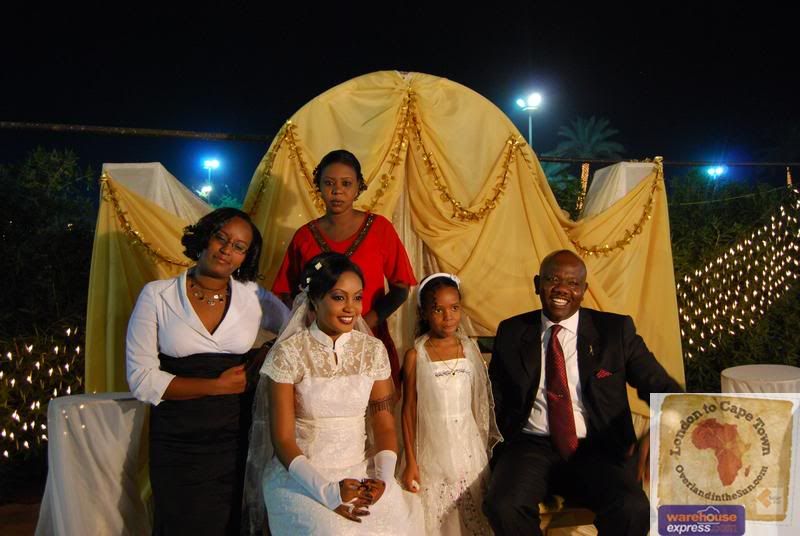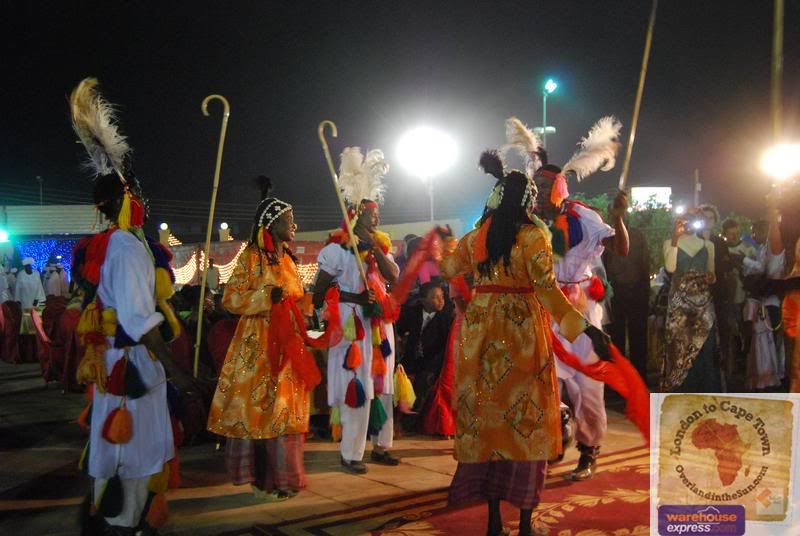 When the Sun starts to go down the big decision was always which part of the Nile, Blue or White to see the sunset? Locals seemed to prefer the white – its wider, shallower waters perhaps were more peaceful and relaxed like the people. I preferred the Blue, much clearer to swim (as you can get out of your depth pretty easily!) and there is also a lot less litter which spoils so much of the White Nile.
This is what happened to Shaun when he decided he was going to leave the trip…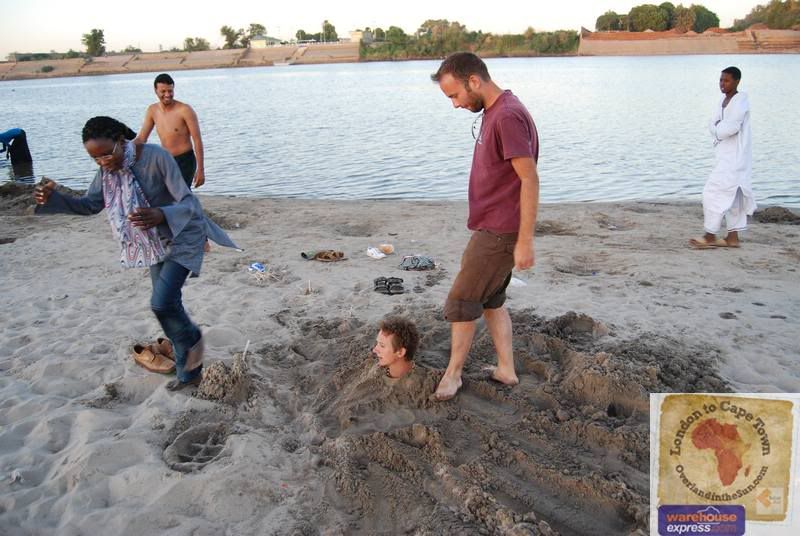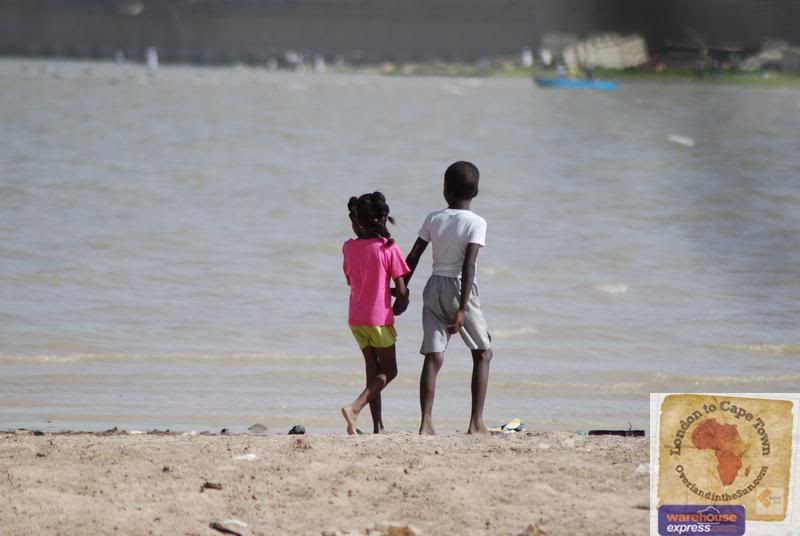 And then there is the food…the guide books claim you can only get falafal and fool in Sudan. This makes Sudenese laugh "we would be dead if we just ate that" there is plenty of fish, meat stews, okra, different tyres of bread and well as amazing juices and cakes. You will, however struggle to find good Sudanese food in restaurants – it is all in the home.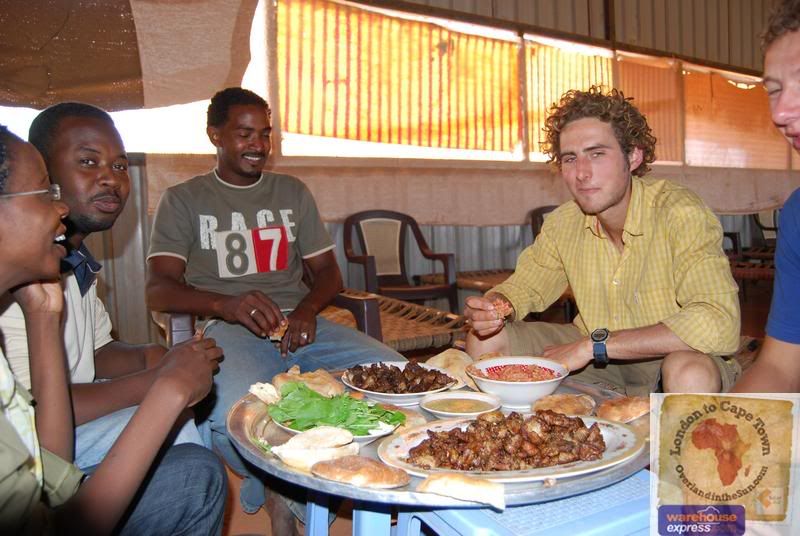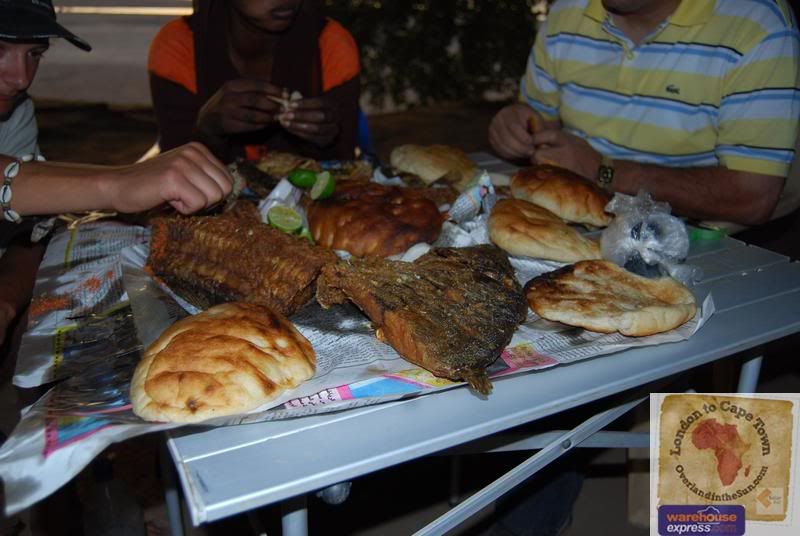 Outside of Khartoum we visited (click on the link to read more) Port Sudan Dinder National Park and the Nuba Mountains
On the way from Port Sudan to Dinder National Park we visited Kassala which is near the Eritrean Border. I actually liked the town, but we were hassled by the police a fair amount visiting the main police station 3 times to check our papers…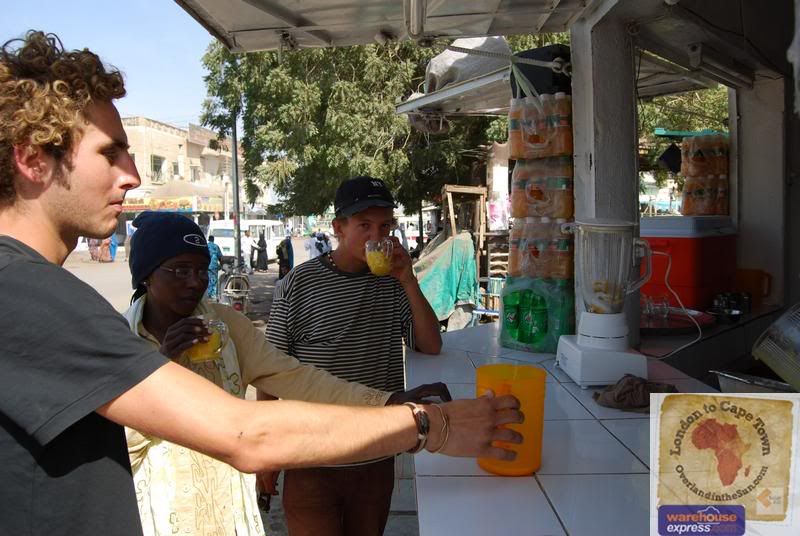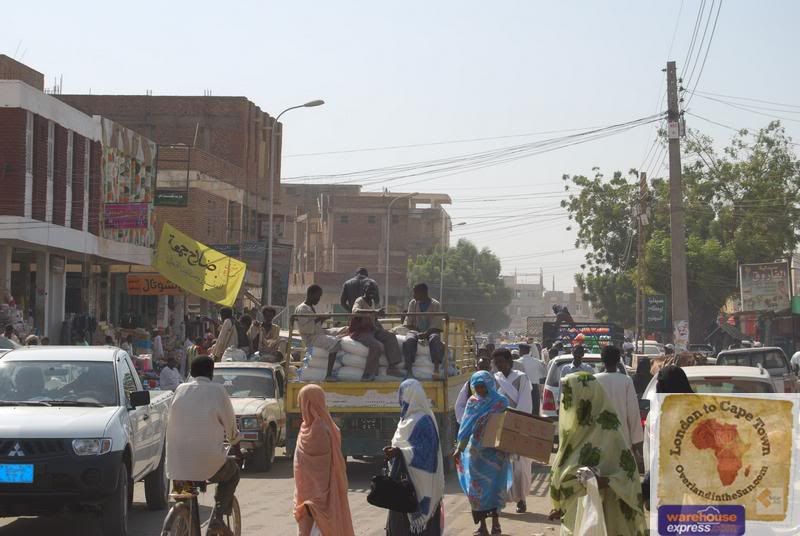 We camped at the base of Taka mountain (only mountain for miles around!) which is close to the Eritrean border – so close in fact the police got a bit worried and took us to the border in the morning….(resulting in another trip to the main police station..)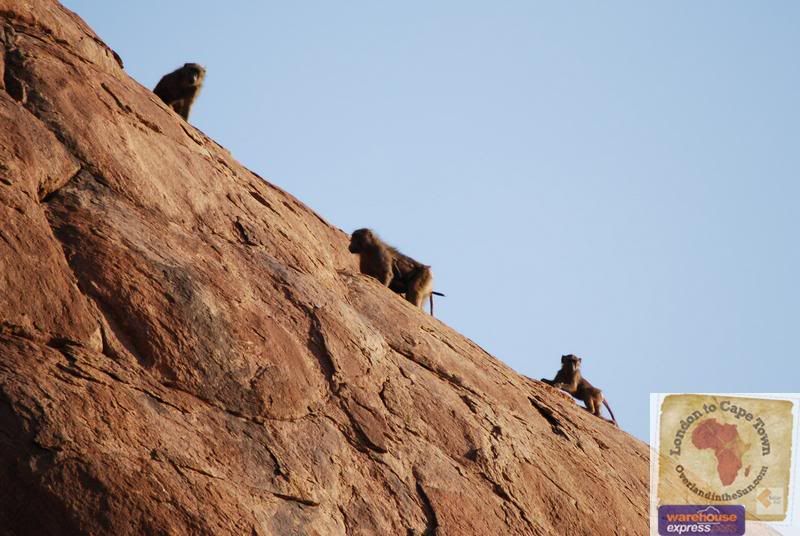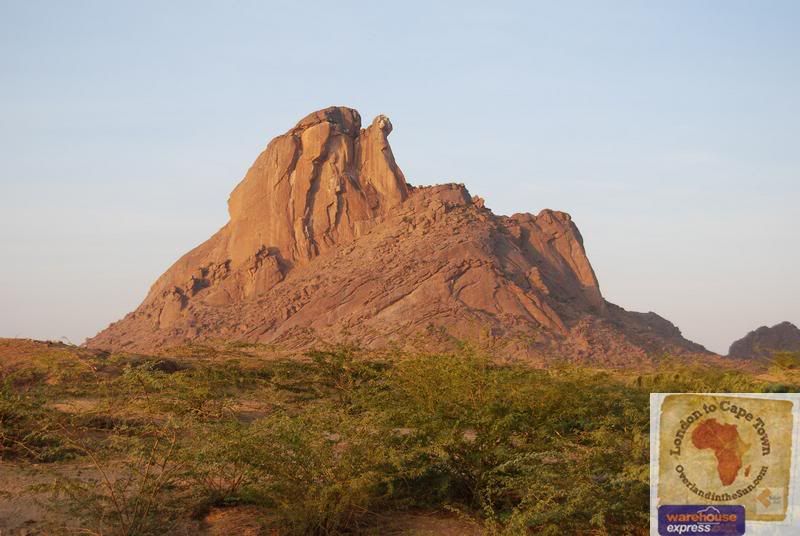 After Dinder national park we went down to Ed Damazin which appeared to be NGO central! It is where the UN have one of their main bases for the south. (This UN vehicle appears to have stolen our solar and roof top tents!)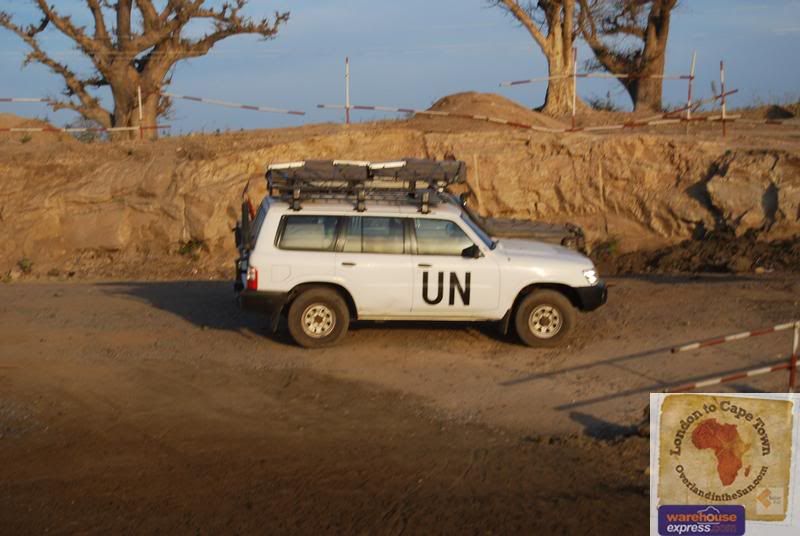 Before Port Sudan we also visited the Royal city of Merowe (Amal what is the local name for it?) the Pyramids here are older than the ones in Egypt and quite spectacular rising from the desert.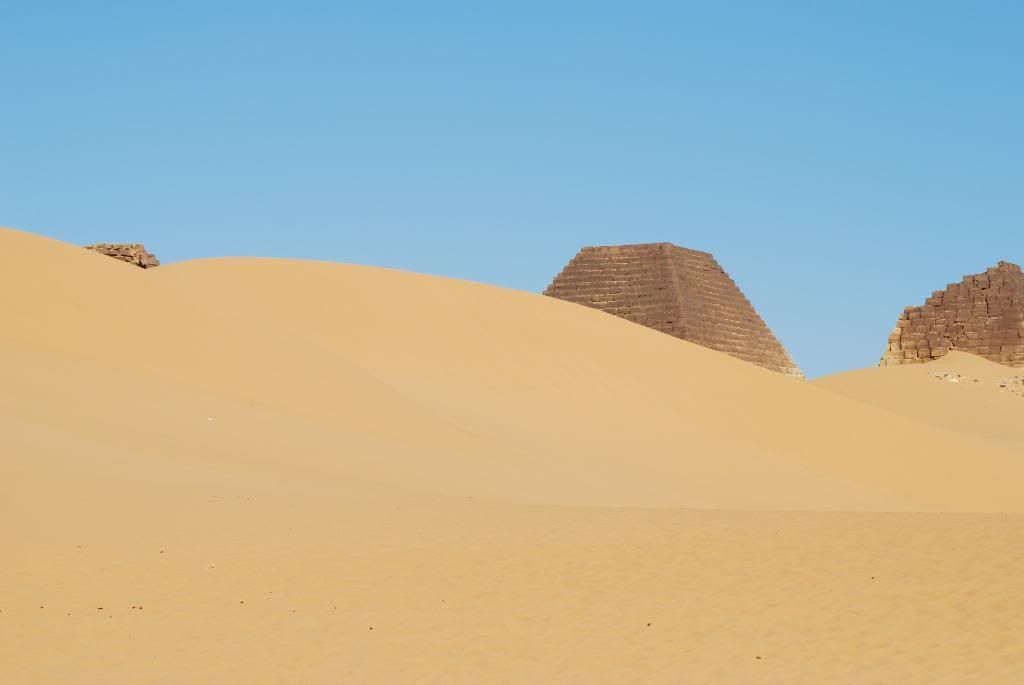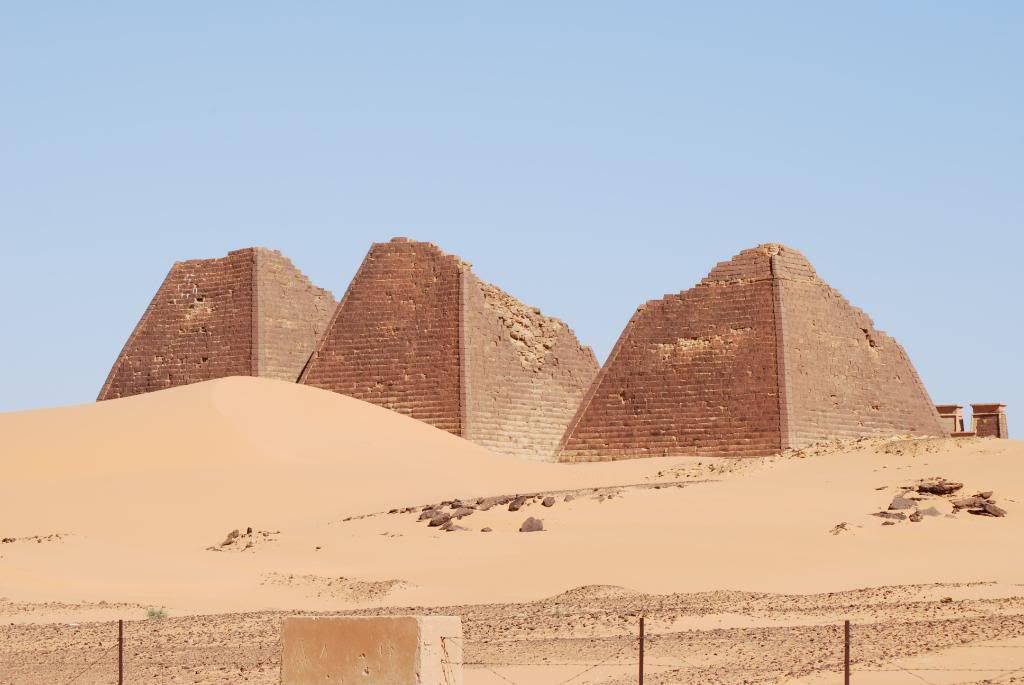 Sudan will always be a highlight of the trip and somewhere I will always feel comfortable visiting again!
This article will get updated and added to over time…