Having deciding to install a long range fuel tank I needed to relocate the spare wheel – which was underneath the old fuel tank. The same principle applies that I didn't want the wheel up high as they can affect the handling and there is a danger for them falling down. Many cars in the UK have them on the rear door – but as the landcruiser has a split rear door they need to swing out – which means they need to be mounted on the rear wing or better (less likely to ripe off) on the bumper / chassis.
We also needed to have two spare wheels – so needed a dual carrier which cuts the options down even more!
I decided that combining shipping with the long range fuel tank from 4wdsystems made sense and their solution was a lot cheaper that the other option (Kaymar)
The wheel carriers came as a kit – they seem strong, and it looks like mecano to put it all together!
I have had a bit of a trial bolt together (nothing tight!) as you can see they bolt through the bumper directly onto the rear chassis.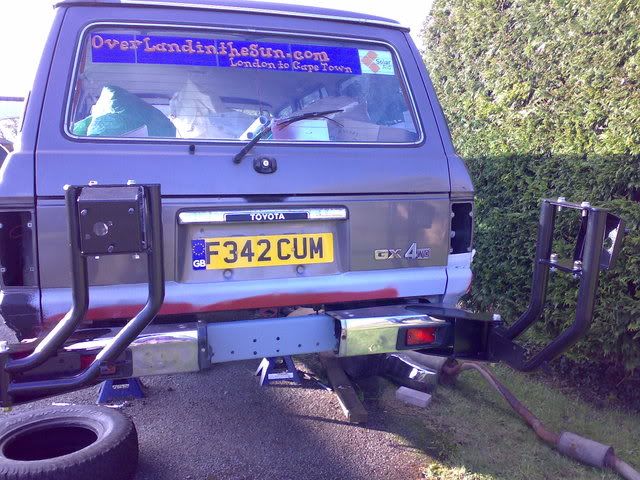 Then I put some more bolts in and tried some spare wheels on it! (I put the high lift jack there as the landcruiser is on axle stands rather than wheels!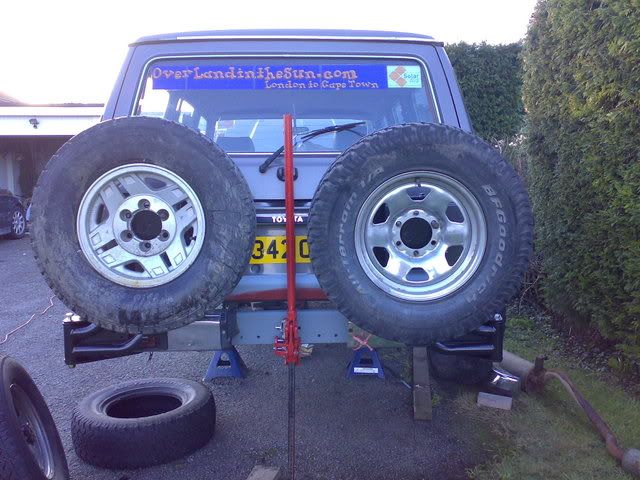 And open! – you might be able to see the bolts on the back of the left carrier which I can mount the high lift jack. I'm thinking the other side may have space for a water tank.
The problem with having two spare wheels out back is that the lights over covered… I have a plan using some nice "hamburger" LED lights that you see on trucks and buses. I also need to sort the rear bumper out a bit..