One of the aims of the trip is to prove how well Solar PV technology works, there are still many misplaced misconceptions that it doesn't work. Here are some installations so far. All of these are working and it shows how flexible the technology is and what a wide range of uses there are for it. It is also interesting to see the number of different companies who have invested in it.
Hopefully this will help you to understand how good this technology is and donate to SolarAid @ www.justgiving.com/overlandinthesun
Sudan
Sudan has some of the best conditions in the world for Solar, its proximity to the equator means that it receives amazing sunlight and it also less effected by the cloud and rain that you often find right on the equator. Our Solar system has been amazing here!
Most of the Sudanese electricity is from dams on the Nile – while low carbon this is problematic in many ways. Internationally, the more dams Sudan builds on the Nile this can effect the dams in Egypt. Upstream, Ethiopia is starting to build dams on the Blue Nile – which will impact the Sudanese dams. Nationally; as Sudan is such a vast country, areas away from the Nile do not have electricity due to transmission costs – these areas are also often the poorer areas (Darfur and the South) and in need of cheaper electricity to prosper. Locally, dams cause problems for farmers, in the North farms complained of ever changing river heights making it almost impossible to farm land long term with better techniques.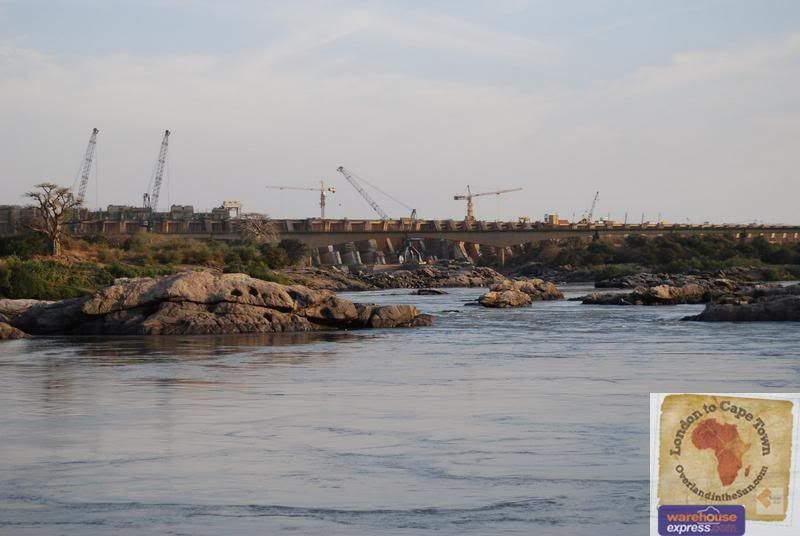 When dams are built they displace people, some of the root causes of the Darfur conflict is because people were moved away from Nubia when the Aswan dam was built. They were moved to areas (including Darfur) where the land could not support the influx of people – thus causing conflict.
Sudan has has a number of other reasons why Solar would be good here, notably the amount of available land and the relative wealth of the country. Many big projects in Sudan are being built by the Chinese – now the worlds largest investor in Solar, perhaps partnerships should grow in other areas?!
Like in Egypt and Tunisia many mobile phone masts are powered by Solar – though more in Sudan appear to be powered by diesel which is odd as it is much more expensive here! The police and army also use a fair amount of Solar which we didn't want to risk photographing.
There were also what looks like Solar powered water pumping stations in a number of locations, particularly in the East.

There were, however one of two, what looked like abandoned or sabotaged installations. It seams odd and we didn't really work out why this had happened. Perhaps it was because people didn't understand what it was – somehow suspicious of it.
Spreading SolarAids theme of the importance of education surrounding solar we were invited to visited a school (Nile School) to talk about our trip and Solar. The school in Khartoum was a real mix of people from all over the country, but they all seamed enthusiastic about the potential of Solar. We visited a couple of different classes and where asked various questions including, if Solar would still work in a Sudanese winter? (in works in the UK winter let alone a Sudanese one!) and where to get more training on Solar. In Sudan there are plenty of establishments educating people on geology and petrochemicals, but it would appear very little on Solar. Hopefully we have helped a tiny bit.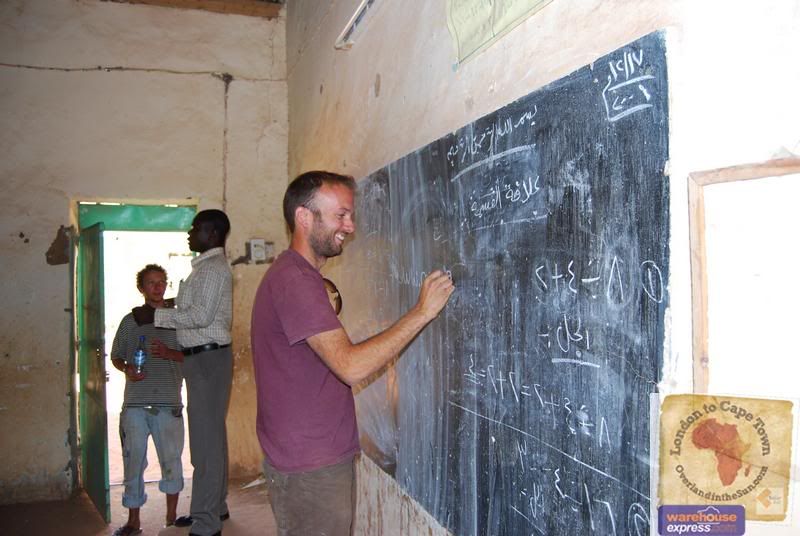 Egypt
There is lots of Solar PV in Egypt, it is being used for all kinds of things. The government seams to have invested quite heavily in it. Like Tunisia there are many mobile phone masts powered by solar, but there also most military / police check points in rural areas have solar. The ambulance / medical stations in the middle of nowhere also are powered by solar.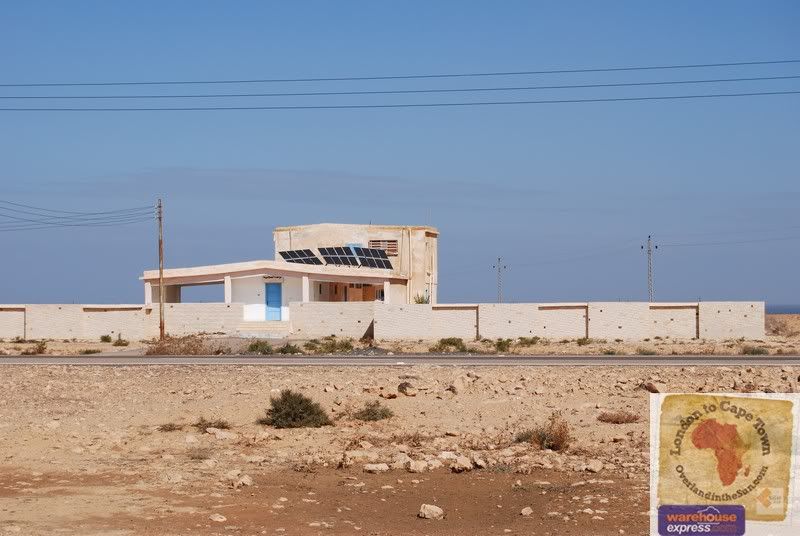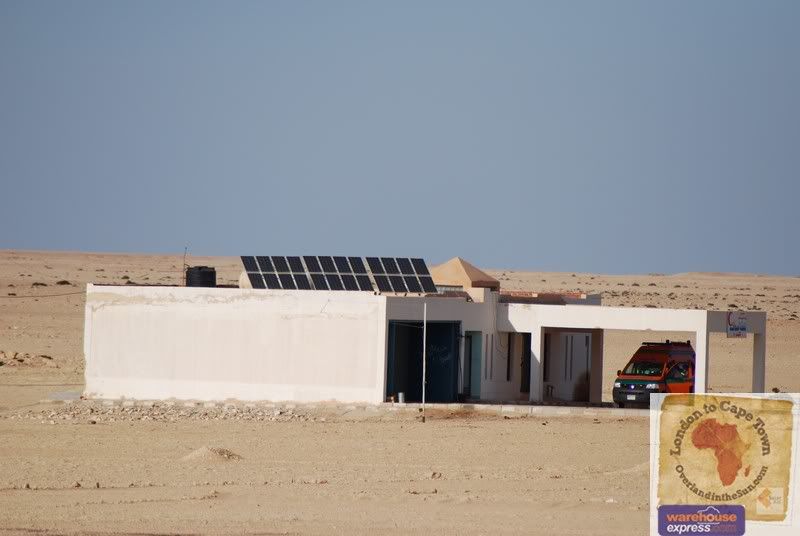 Libya
There is massive potential for Solar PV in Libya, but we saw very little. We were also unable to tack any pictures (either because they were in locations where we could not stop, or close to military bases)
Tunisia
There some Solar PV in Tunisia all of which we saw was on mobile phone masts. Some were quite large installations. It was nice to know that while I was speaking on my mobile, not only had it been charged by solar (on our system) but also some of the network was also powered by solar.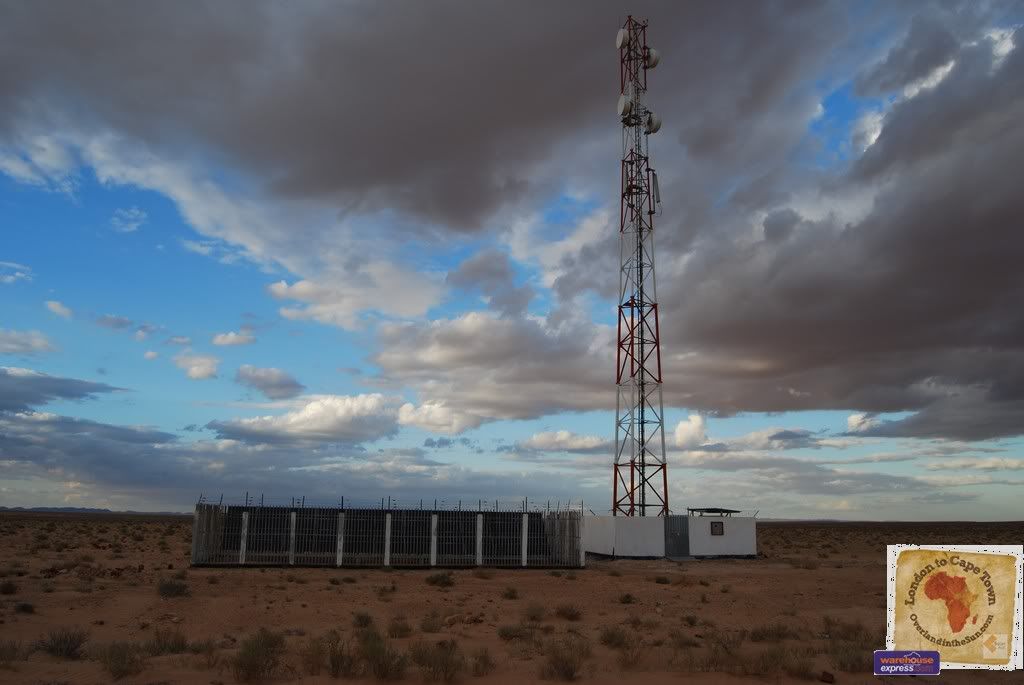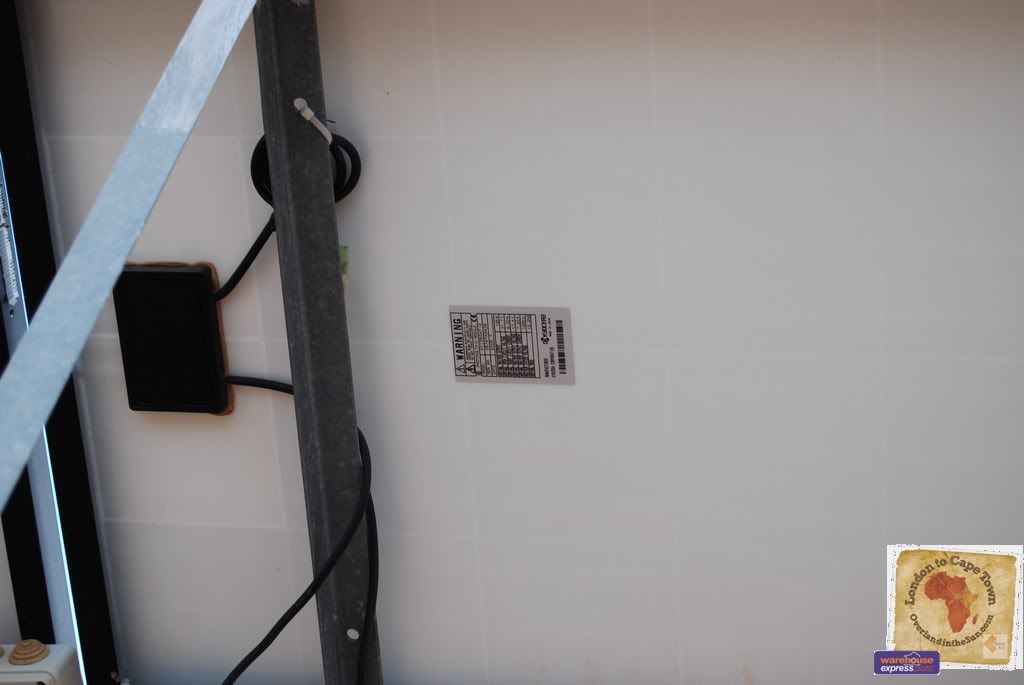 There was also a fair amount of Solar hot water on houses (like in Southern Europe)
Europe
Due to our constricted timescales in Europe we were not able to take photo's of all the PV we saw, much of it was while driving along.
On Sicily there was a significant amount of Solar PV, on Factories, Signs and peoples homes. There were also a number of Agip garages with quite large installations. In retrospect this installations are probably only there to enable the selling of petrol at all times even when there is a mains power cut. Hopefully oneday it might be used to charge batteries for electric cars?!