Sinai to Cairo
We all had been wanting to climb Mount Sinai – it was the "thing to do" on the Sinai peninsula after scuba diving. We had heard that the best time to climb was leaving St Katherine's Monastery at 2am – reaching the top for sunrise (at around 6.30am). It sounded idyllic – watching the sunrise from over 2000 meters at this spiritual place. We hadn't expected the number of people that would be joining us! It was a strange experience following the foot steps of Moses, at 2am with around 2000 other people from all over the world and another 100 camels.
Sunrise from the top of Mt Sinai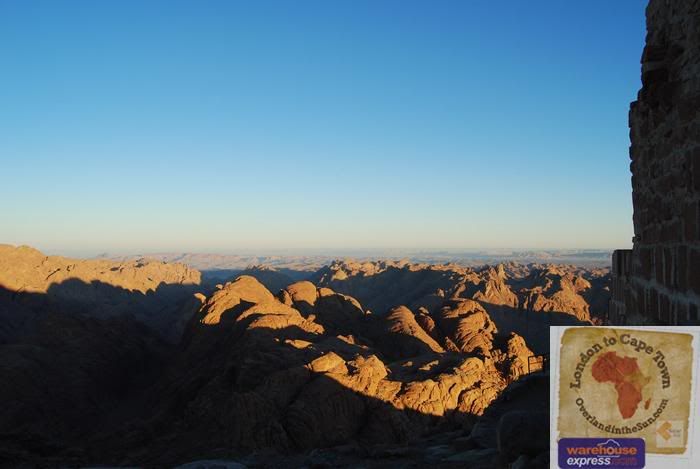 Monastery St Katherine's
After climbing a mounting and not really sleeping we decided that we needed to find some wild camping away from disturbances. I had fixed the 4wd by this point so I was keen to test it out and the lokkas. After about 10miles of sandy / duney tracks we came to an old Oasis, far away from any villages. Managing to drive down to where the river should have been, we were able to set up camp. We stayed at this camp for around 24 hours, only being disturbed by wondering goats – the perfect place to recharge (and play guitar).
After one more night camping in the Sinai desert (and yes the landcruiser, and I can now drive in sand without getting stuck every 2 meters) we crossed the Suez and back into Africa and onto Cairo.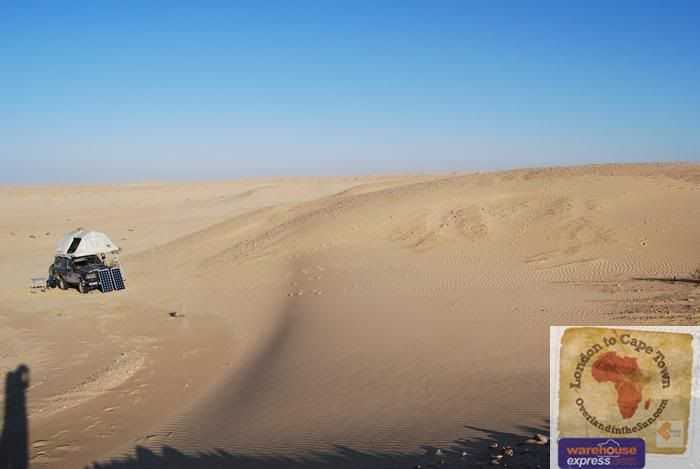 We had driven through Cairo (by accident!) on the way to Sinai, it was noisy, smoggy, dirty and fast after our slow donkey pace life in Siwa. We had lost the main ring road and ended up right in the centre of Cairo, in the busy markets surrounded by hooting minibus and taxi drivers. This sounds negative – but the vigour of life in Cairo was what we were looking forward to.
Having worked in UK Government for 5 years I am pretty used to government buildings – but in Africa they are slightly different! (You wouldn't be able to get a cup of Coffee or your hair cut in the W.C on Whitehall!) Our first few days in Cairo would be spent sorting out paper work. We needed to get Sudanese visas, extend our Egyptian entry stamps (even though we had 90 day visas they only stamped us for 1 month) and try and extend the cars registration (which also only lasted a month). This kind of thing would take a while in London, but in Cairo it would take us a good few days. At least there were plenty of things to split to interest us while making our way between different buildings. The beauty and calm of the Nile, the bustle of the souqs (Markets), the endless fast food stands (foul, falafel, keshary kebabs, roasted sweet potatoes etc – which we all ate far too much of and didn't suffer from any consequences that we had been warned about) and then hours of drinking tea and playing back gammon with the locals in the side street shisha cafe's or juice stops (freshly squeezed sugar cane juice is a great antidote to Egyptian bureaucracy!). We settled into the speed of life in Cairo, getting up early to try and sort paper work then spending the rest of the day looking for those little things that we had on our Cairo shopping list (a 3rd folding chair, more padlocks, gas and some bits for the car).
Cairo – even in the center some land is used for farming (on an Islan). [Below] my favourite race track, also know as the Ring Road!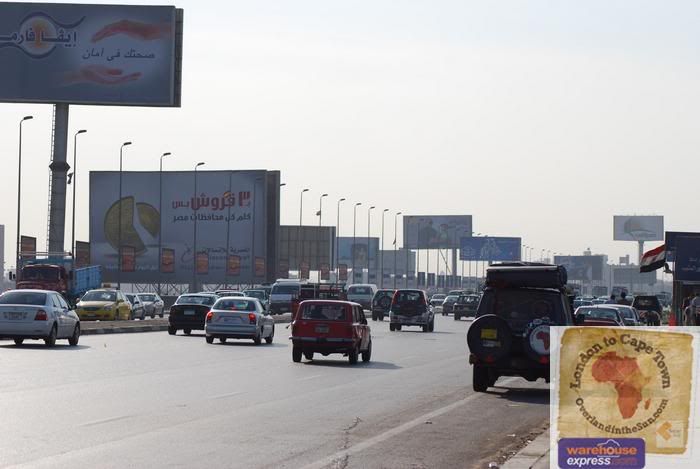 We were staying at the only camp site in the area (Motel Salma in Giza) it does live up to its description in the Lonely Planet as full of flies, but if you are travelling further south into Sudan it is particularly useful (and interesting) to meet some fellow travellers who we would bump into every so often in the future. By the end of our stay in Motel Salma we new of at least 11 cars (Germans, French, Swiss and two other British cars) that were aiming for the same boat as us from Aswan to Sudan. While we all clearly travelling in Africa independently, it was nice to swap numbers, information on paperwork process, GPS co-ordiantes and know that if something serious happened in the future we maybe able to help each other.
After 5 days in Cairo we felt like we knew Downtown well, driving on the ring road with all the hooting, undertaking and general lack of lane discipline become familiar (but still addictive!). We hadn't however really seen much of the touristy sites – apparently there are some Pyramids in Giza, but we had only seen shadows in the smog. It was time to change into tourists.
The Pyramids simply are amazing, we managed to avoid much of the hassle that they are known for (perhaps our un-kept look makes us an un appealing target!) Actually it was pretty easy to wonder away from the crowds and dream about what life must have been like when they were being built.