There are 3 main bits of paper work that are needed for the trip – Visas, the Carnet and International Driving License.
It is important to stress that bureaucracy changes rapidly and if you are a different nationality Visas could be significantly different – check first!

***Update, as I sold the car in Mozambique I have added some details below on how this worked with the paper work****

Visa's
Sorting out as many visa in London is preferable, however I have come to the conclusion that there is no point sorting out anything south of Kenya, all this can be either done on the borders or in Nairobi. The countries further north are a bit more interesting though….
Living in London has meant that I have been able to cycle around all the posh parts of central west London and visit the embassies myself. Saving lots of money on postage and or fixers!
France and Italy
Myself and Shaun can easily travel through Europe, bur Ryan (who is South African) had to get a visa for both.
Tunisia
UK citizens don't but again Ryan does;

http://tunisia.embassyhomepage.com/ (not the embassy website but does provide information)
Libya
Libya changes is entry requirements frequently but the basics stay the same;
You need to be invited by a Libyan Tourist Company. There is little point trying to go to the embassy directly.

You must be accompanied at all times by your tourist guide.
We are using http://www.temehu.com/ they have offered us a special rate as we are travelling for charity. I have also read good things about them and they have been very helpful so far!
Egypt
The resorts do not require a Visa – but we won't be going to all of the resorts.. so yes we do need visa's, but shouldn't be much of an issue. For UK citizens it cost £15 – for South African's it is free.

http://www.egyptianconsulate.co.uk/visas.html
Sudan
The Sudanese are famed for their paperwork – the visa is supposed to take around 2 months, as they have to ask Khartoum about every single person… Have heard it can take longer than 2months. We have decided to sort this one out in Cairo – apperently it is much quicker. Wish us luck!

http://www.sudan-embassy.co.uk/en/index.php?option=com_content&task=blogcategory&id=17&ampItemid=33
Ethiopia
The visa requirements for Ethiopia were probably more relaxed than described on the website. The only issues that the visa starts as soon as it is issued – meaning you have to pay for a longer one than you actually need. It was £24 each.
And trust me it is worth a visit to the Ethiopian embassy in London if you can…

http://www.ethioembassy.org.uk/consular/Visa.htm#How_to_Apply_for_a_Visa
Kenya
Easy visa to get – I have had 2 before! For UK citizens we decided to get multiple entry visa's for a year. Currently £30. South African's can stay in Kenya for a month with no visa, then get visas from any boarder post.
http://www.kenyahighcommission.net/visas.html#donot
Carnet
A carnet is basically a passport for the car. It means you don't have to pay import and export duty at every country. Egypt for example will charge 800% of the value of the car..
Choice of car is important with this, the lowest value of car is best! When valuing your vehicle use Parkers Guide or similar. There is no need to value all the work / modifications / improvements into the value.
The RAC are the only issuing authority in the UK. Let them know early about your trip and they will be very helpful (especially if you are doing the trip for Charity)
Here is what i had worked our Carnet costs to be… (they weren't as RAC were kind to us because of the charity work)
There are a "few" costs associated with this;
Firstly there is the actual document –
Carnet de Passages en Douane : £150.00
(5, 10 or 25 page)
That is the easy part! Next is "insuring the vehicle" so you don't import it…
It is possible to pay the full insurance – but this will be £1000's! So most people take a premium against it.
Obviously there is a Admin fee;
Bank Guarantee Administration Fee £55.50
(Limited liability)
So here is an example of the Insurance Premium from R L Davison
Premium of 10% – payable calculated on overall security/risk,
EXAMPLE : Africa tour including East Africa/Kenya (excluding Egypt), Cumtruck value – £2000.00
£2000 x 200% = £4,000. Premium of 10% payable, being £400 with 50% refunded on return of carnet.
Sounds OK? The problem is however, Egypt – they require a 800% so it will be more like;
£2000 x 800% = £16,000 premium of 10% payable, being £1600
+ Insurance Premium Tax @ 5%
And if you take this route RAC take a deposit;
RAC Refundable Deposit £350.00
(Applicable to R L Davison Indemnity ONLY)
So Total is; £150 + £55 + £1600 + £350 = £2155 (Some of it is refundable)
International Driving Permit (IDP) can be useful and cheaper than loosing UK license. £7.50
http://www.rac.co.uk/know-how/going-on-a-journey/driving-abroad/carnet-de-passages.htm
Here is what one looks like.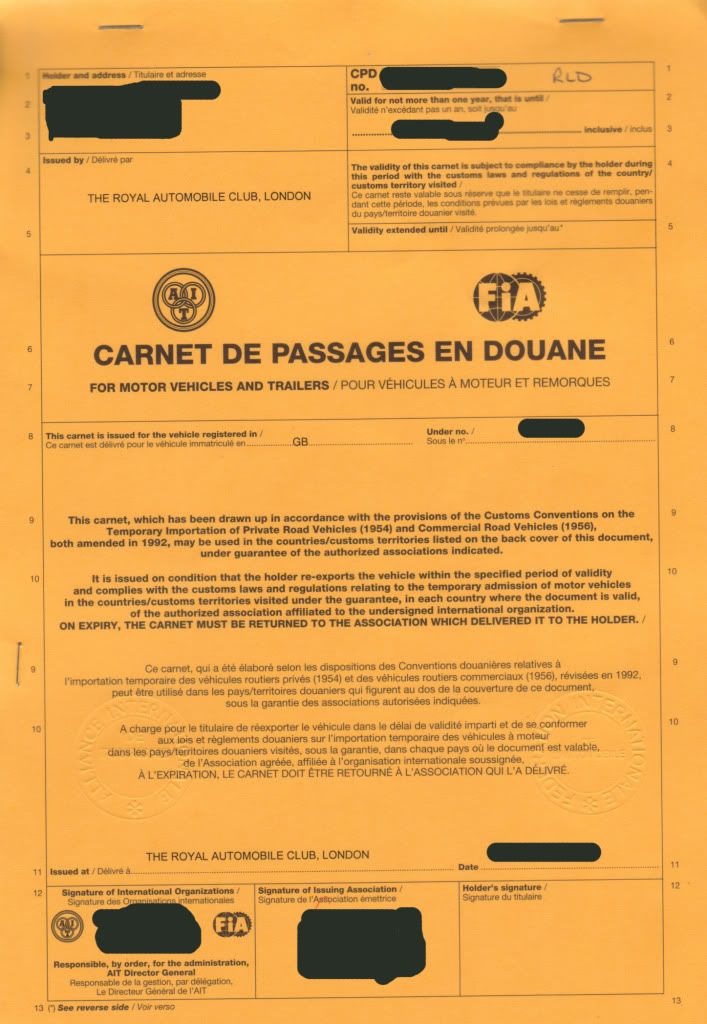 International Drivers License
Easy to get hold of, either through the RAC or at your local Post Office. Should cost about £5.50
Selling a Vehicle in Africa
In the end the gearbox broke in the Landcruiser in a somewhat difficult part of Northern Mozambique you can read the story of what happened here.

This meant I decided to sell the Landcruiser, I actually was offered reasonable money for it, more than what it would have been worth in the UK with a broken gearbox anyway! But it was more to do with it being a difficult situation – which I was very quickly loosing options to get out of.
So the deal was made, it wasn't easy as being in Mozambique – the chap who bought the car didn't speak English and I didn't speak Portuguese! Lucky I had a helping hand..
The carnet had been stamped when I had entered Mozambique, and for my Carnet to be complete I needed a stamp out or some kind of stamp to prove importation.
It sounded like it would be possible, and I made sure I did not give the keys to the new owner until I had got the stamp.
We spent a few days in the nearest municipal capital, hours where spent in various government offices and the new owner paid a few "fees" here and there. I was told that it would be possible and wait for a phone call, people where just not used to this process, especially in northern Mozambique a good distance away from the boarder. Days passed and there was no phone call, once again I traveled to the provisional capital (which was 80km from where I was staying). Nobody seemed to be interested in the office that I had been talking with – what to do now?

I had been in contact with the RAC as soon as I had decided to sell the car, as ever Paul there was very helpful, replying to emails quickly. I let him know about how difficult getting a importation stamp was. The RAC took everything on board AND BECAUSE I WAS IN MOZAMBIQUE, they decided it was OK to sell the car without getting an import stamp. Obviously this led to a big celebration for me!
Once I was home I sent the Carnet and with my article about the end of the landcruiser, the RAC where happy.
I am reliably informed that this would NOT be possible in South Africa and many other neighbouring countries. If I had done this in South Africa, RAC would have received a claim from SARS (the customs people in South Africa) which in turn would lead to me loosing my deposit etc etc.

Incidentally, I would only accept payment for the car in US dollars. While I like to support local currencies, I was pretty sure I couldn't take Mozambican Metacals out of the country.