Mia Mia? (100%?)


I didn't expect any vehicle to be 100% reliable on this trip there were always going to be problems with the landcruiser, but hopefully nothing too major.
Here is a blog about the bits and pieces that have needed to be fixed on it.
Before we left;
Injectors, Glow plug relay and the wheel falling off (which you can read about here)
Europe
The glow plug relay still passes all the tests in the Haynes manual but i'm 100% certain that it doesn't work. Car doesn't start first thing in the cold morning, but if you connect a wire directly from the battery to the glow plug for a couple of seconds before starting all is fine. In Africa (and even southern Italy) this isn't a problem, because its plenty warm enough not to need the glow plugs! Might find a relay somewhere on route though.
Tunisia
4 wheel drive doesn't appear to be working when going for a bit of a dune bash – didn't work it out until Egypt..
Libya
4 wheel drive still not working, but everything else still fine.
Egypt
Fixed the 4 wheel drive, turned out to be a small crack in one of the vacuum pipes. Took the whole of the diaphram apart, cleaned and also checked the electrics – I now know much more about the 4 wheel drive system!
On the way to Siwa a front hard brake pipe came loose and all the fluid drained out, it was a long straight road so hadn't been using the brakes at all and only noticed when the warning light came on (cool the warning light works!) Easy fix, tighten up the bolt, fill with fluid and bleed.
The clutch slave cylinder also gave up, but in fairness the previous owner gave me a new one with the car when I bought it saying that it needed to be replaced (and this was 2 years 15,000 miles previous) Also just a 20 min job.
The left hand spare wheel carrier also broke the bumper mounts in Cairo (just by the British Embassy in fact). It had never been quite right always looking a bit bent, I think the carriers where designed for Australian spec cars which generally have one single bumper rather than two separate bits like mine.
Slightly annoying having to carry inside the car, so got it welded up – it looked like a reasonable job…
Failed to get air filters in the UK before we left and had been asking all the way along – finally found some good Egyptian made copies in a shop here just before Aswan.
Rear prop shaft bolts came loose on the way to Aswan (can't have tightened them up probably after looking at the 4 wheel drive)
Sudan
On the Haynes 5 spanner rating of difficulty so far on the trip things that had gone wrong only were really 1 spanner difficult. In Sudan there was the odd 2 or even 3 spanner job.
I figured the country would be hard on the car, so in Wadi Halfa I started with a fresh Oil change for the engine, gearbox, transfer case and both differentials. New fuel filter and air filter. All smooth to Khartoum!
Firstly it was the front prop shaft that decided to come loose (Easy!) Then after 10,000 miles we had our first puncture. I like Toyo tyres they have really given the landcruiser excellent road holding and are very resistant the sharp thorns which are everywhere here! One day I pulled at least 20 out of one tyre and it was fine. But the days of off road driving to Dinder had taken there toll on on the way back to Khartoum the rear right gave way. It had a slit on the inside of the sidewall, which looked as if it had been done by some metal.
OK should be easy to get going as we have two spare right? Er well no, yet to sort out on of the spares that was leaking around the rim (this had an old tyre on it – not from Tyretraders) and the other spare with the new Toyo on it had got a bit flat. No problem we have a compressor! Why isn't the compressor working? ARh cheapo Halfords compressor decided not to work when you need it! We were on a busy road so as opposed to using our compressed emergency gas it was a better idea just to borrow a spare wheel to limp the next town (20km away) to get some air. Luckily Toyota still use a pretty similar stud pattern on their new cars so when some kind people stopped in their new Hilux their spare Alloy fitted fine (looked mighty odd, but fitted fine), However like us the spare was also low on air, but they told us to drive on it. (Obviously they speed ahead flashing at us to keep up, great fun in a car that wouldn't go in a straight line easily!)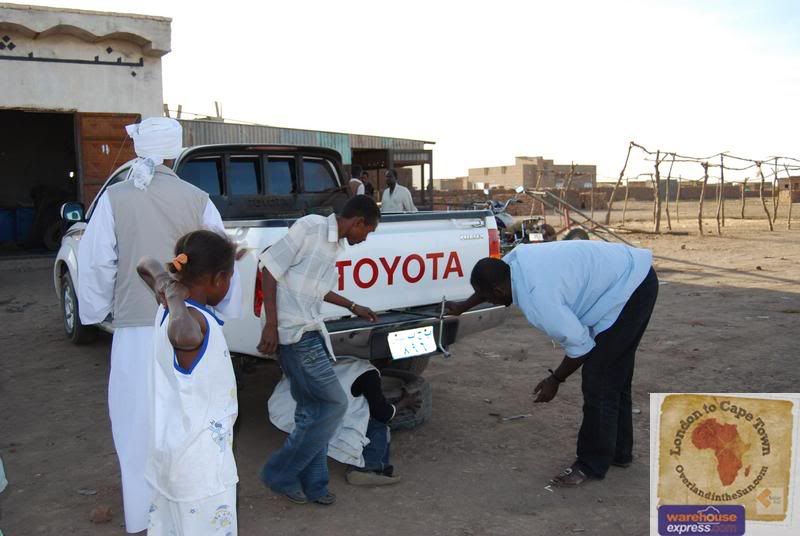 After getting the slit repaired and a inner tube fitted we had one spare, then the skilled tyre fitter in Khartoum managed to fix the leaky rim. Wahoo, two spare wheels for our trip to the Nuba mountains and I fixed the compressor – it was just full of sand!
Lesson learnt – we have dual wheel carriers for a reason, make sure both spare wheels are good!
Talking of spare wheel carriers; the welding on it that we had done in Egypt had broken. Time for a different option. I wanted to find a single piece rear bumper but after a trawl around Khartoum industrial area, and Ondurman industrial area only two piece bumpers or slim one piece bumpers, that wouldn't fit the spare wheel carriers. After asking lots of people for a Saddam (yes the former President of Iraq's name can mean Bumper) I decided to go for more welding. The reversing light and fog light (because we need that here!) had taken a bit of a bashing on the way to Dinder so it was time for them to have a new housing as well. After about 4 hours welding and about 20 people helping take everything of and putting it back on; all the mounts are strengthened and the two bits of original bumper are welded together with some strong bits of metal forming a perfect housing for the lights. It is also possible to use the highlift jack on it (yes the other rear wheel got a puncture in Kadugli, Nuba Mountains – which we promptly got repaired)
For interest, inner tubes cost about 25£ Sudanese and fitting another 3-5£ Sudanese.
In Port Sudan the cooling fan seamed to be staying on for ages – whats the problem? Turned out that that it fell off its mounts. I say mounts, it was actually mounted with B&Q Zip ties. Unfortunately every single B&Q zip tie has broken on this trip – they are all but useless. Obviously remounting the fan involves draining all the coolant and taking the radiator out (and batteries), before refitting and going on a hunt for some decent coolant…(Managed to find Fuchs to add to the spare we had from Opie Oils) Fan now mounted with metal ties, rather than sub standard B&Q zip ties.
I'd noticed that the rear differential was leaking some oil (but nothing like all the Land Rovers we had come across!). After closer inspection it looked as if all the bolts for the housing had worked themselves loose. After tightening them up and refilling with oil, I thouht all would be fine. "Hmm whats that smell", on the road to El Obeid? "smells like buring differential oil on the exhaust" Oh bugger, its the front rubber seal and all the oil was all over the rear of the car – nice mess. Luckily our sense of smell had been good enough before our sense of hearing had picked up the potential sound of griding gears! Even better I had two genuine spare seals and plenty of oil (thats why Opie Oils sent me thaaaat much transmission oil!). According to Haynes this is a 3 spanner job, and I was missing what looked like two vital tools (a KG/angle Toque wrench and a puller),
I think it was more of a 2 spanner job and I could just about get away with not needing the tools, i'm sure no African mechanic has ever done that job with them!
Hopefully I have set the preload on the bearing correctly….
On the way to Dinder national park, on a bumpy road we got some "air" and on of the engine batteries jumped out of its mounts… Obviously the bolt had vibrated itself loose.
Some of my crazy electrics has proven to need a bit of extra work to make all the
rear lights work correctly.
The Exhaust has taken a bit of a bashing and lost a bolt on one of the mounts, also the rear pipe out of the middle box has broken its welding. After tightening all the bolts, it sounds a bit quieter. Repair the pipe with a can of Miranda, circlip and some putty seamed more fun than just getting it welded!
(Wonder how many old different cans of drink this exhaust will have clamped to
it!)
Fan or drive belts are very important things on an engine, while because of the Solar conversion the Landcruiser only has one – finding a replacement seamed to be very difficult. In the UK two different places gave me ones which were just that little bit too short, and in Khartoum the main Toyota dealer gave me one which was too short. The belt that was on it may well be fine until Cape Town, but I knew it was at least 2 years old. In the end, a random Mitshobishi part fitted perfectly. (Easy job on this landcruser as there is no engine driven fan in the way)
In the boot the B&Q multiple storage boxes are clearly not designed for being in the back of a landcruiser travelling across Africa – "why not?" I ask it clearly is a way of storing things. I think they need an asterisk *not sutible for overland travel in Africa. Need to find a solution for this….
Like many cars of this age security is not their strong point. Now that Pentagon had fitted smash proof film on the glass (and the tinting, which is one of our favourite modifications keeping prying eyes out it a little bit cooler inside) the windows were secure, but one of our friends in Sudan showed us how easy it was to get in through the locks, with an old warn down key. Hmm not good – especially for later in the trip. Back in the UK I had been wanting to fit remote central locking to the car, and disconnect the locks – so they were just dummies. Because all the central locking is 24 volt this proved more difficult than I had hoped (most remote central locking kits are 12 volt only). The Khartoum solution was to fit a new 12v central locking kit as well. Great in theory, but cheap Chinese made central locking kits are not the easiest thing to
fit… Wonder if I can find a 12volt landcruiser that I can "borrow" its central locking from..
On our little Nuba mountains trip we had 3 punctures, and one of the brake pipes came loose again! Also I bent a suspension U bolt on a rock. New one was cheap in El Fula as it was full up with landcruiser 60's