Italy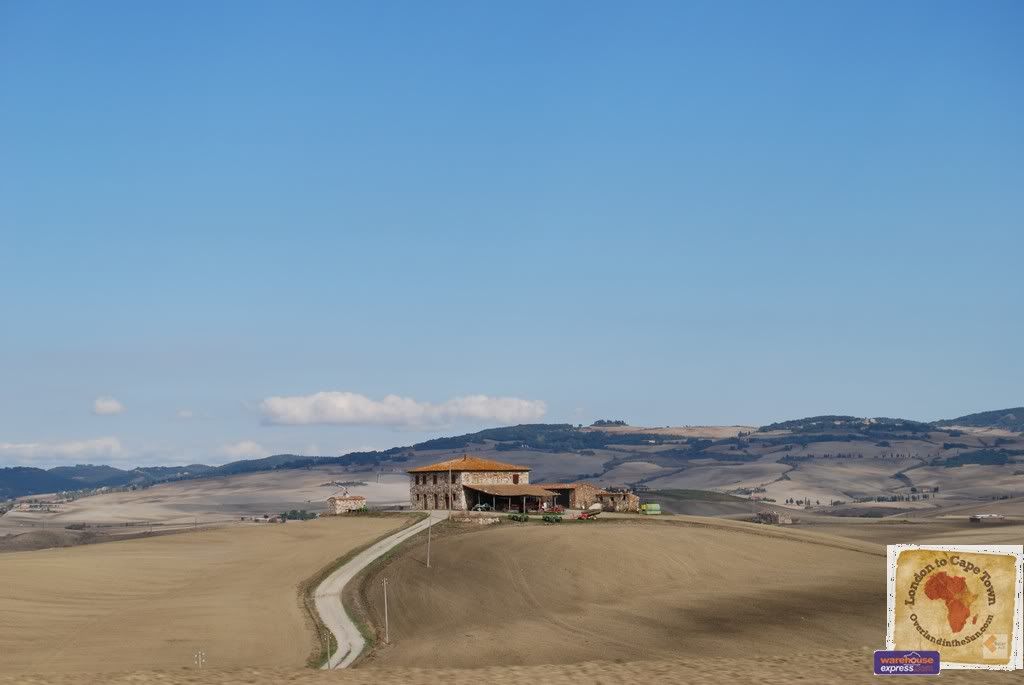 Italians are famous for their cars and there love of "nipping along" the Italian Autostrada often felt like a computer game; tunnel, bridge, corner, overtake, undertake, horn, tunnel, bridge, overtake etc etc, but the driving on the single carriage ways was like a big dance. Cars over taking in both oncoming directions would sweep back to safety so smoothly, as if the move had been choreographed. All happening whilst chatting away on mobile phones, perfecting make-up or looking at "Countach" girls
<
In Sienna we met with one of Ryan's friends from South Africa, we had driven over a 1000 miles but not really stopped to be tourists. It was great (and a relief) to finally feel like tourists, having somebody else to show us around was very special.
We camped just south of Aprillia – famous for its screaming two stroke motorbikes, but didn't actually see any!
Heading through Naples(which was an 'interesting' drive) we followed the coast road south. It was getting dark and the metal barrier across the road perhaps should have made us think that the road was actually closed – but if the landcruiser can't cope with European road – what hope has it forAfrica? Besides, we couldn't actually see an alternative route! Rocks and trees were in the road – but it was fine.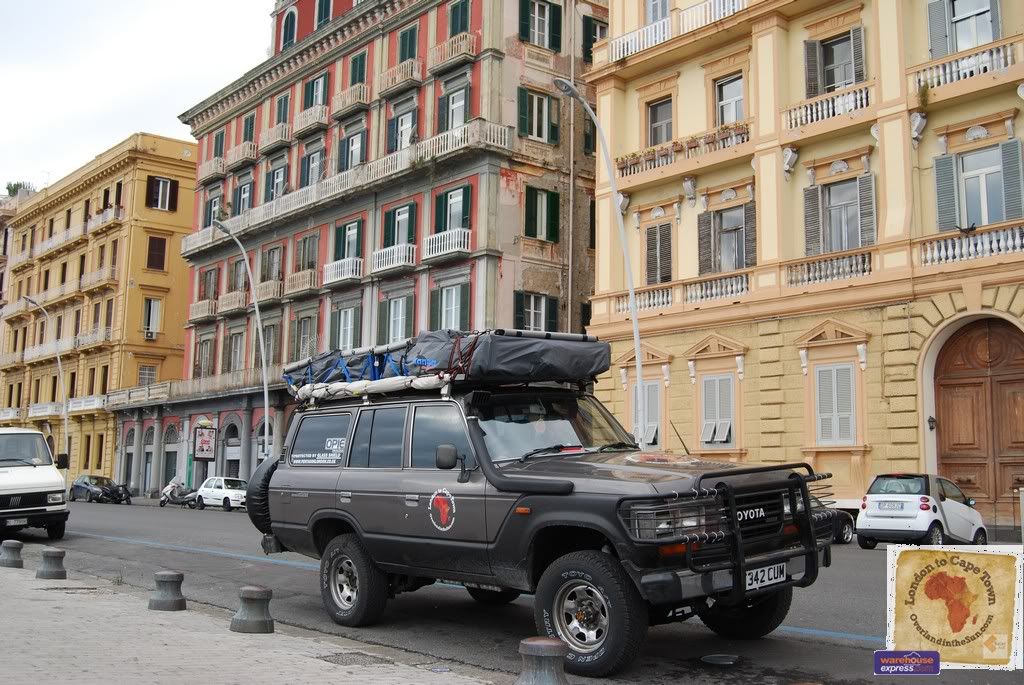 Landcruiser in Naples – no dents!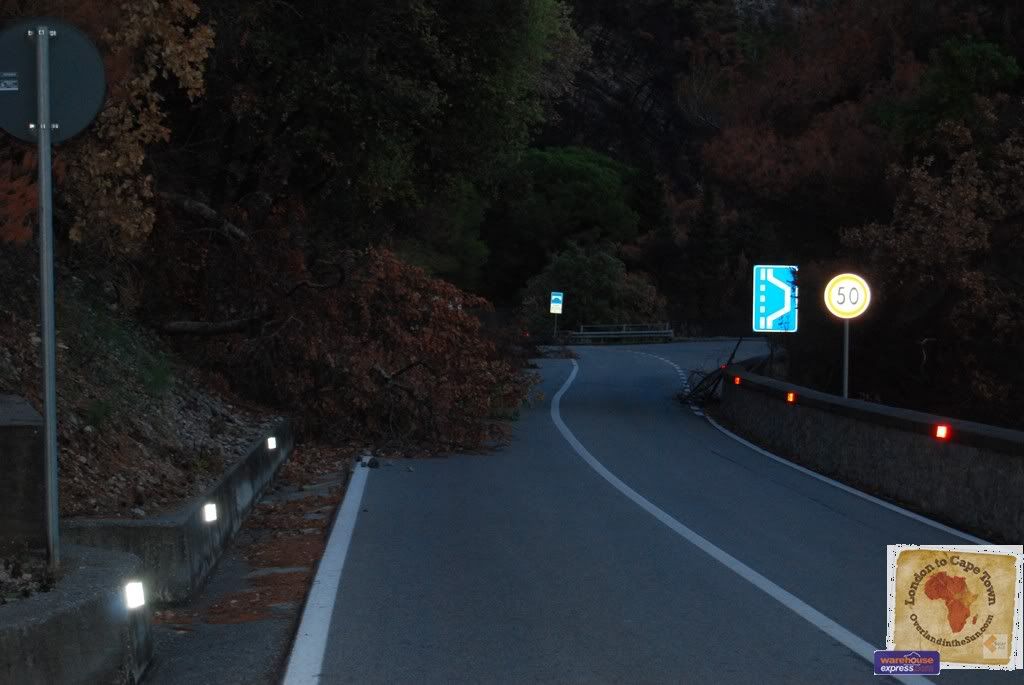 Was the road closed?
Our 5th night was our first beach camping. What could be better than the sound of the waves to sleep too and that early morning swim to wake up? Ok, we will forget about the main line train line behind us… and the rain (why does it always rain inItaly when I come here?)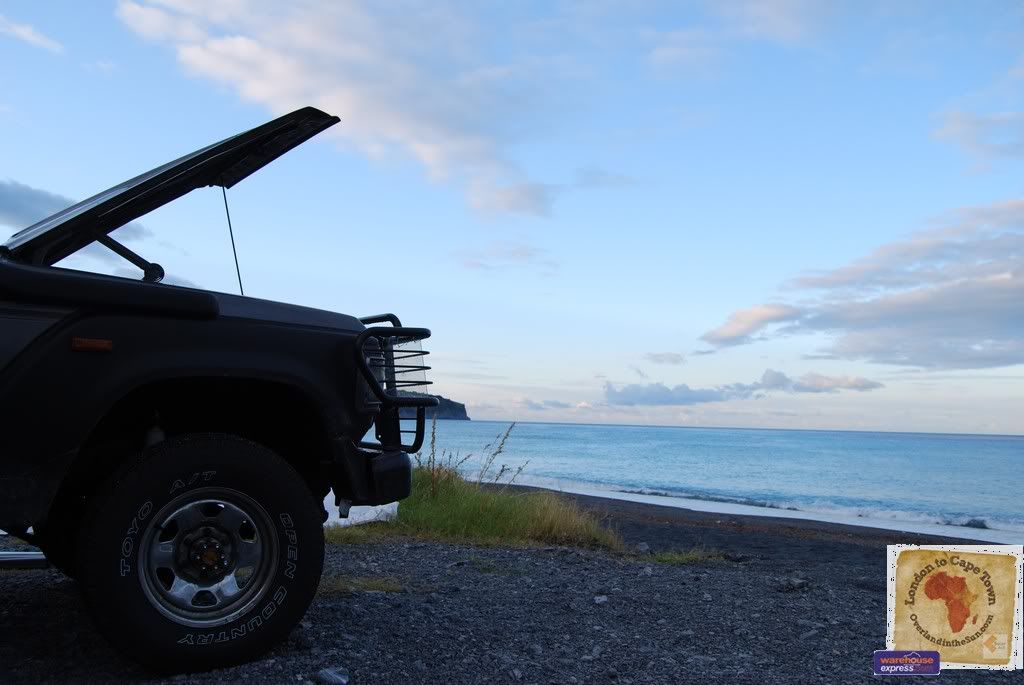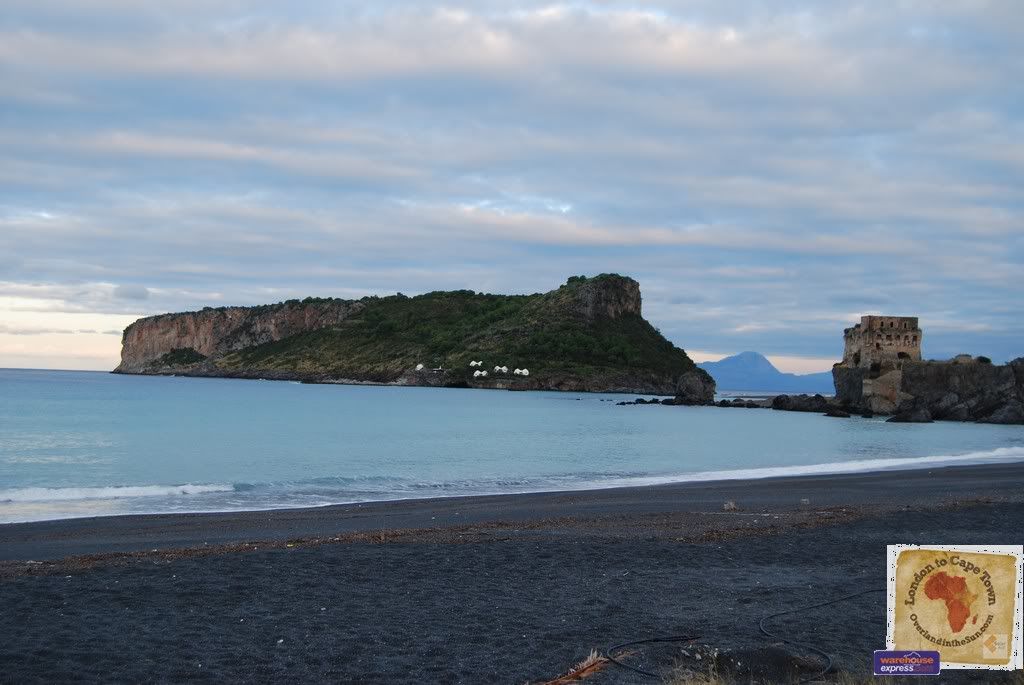 Our first beach camp
We were on course to catch our ferry – a quick sprint onto the foot ofItalyand then acrossSicily, easy!Sicilyisn't much bigger thanAnglesey[IslandoffNorth Wales] is it?… Better look at the map.
They are supposed to be building a bridge from the mainland toSicily– but we could not see any sign of it – so the ferry number 2 it was. We actually managed not to missed it, but only because you don't book and they go every 20mins!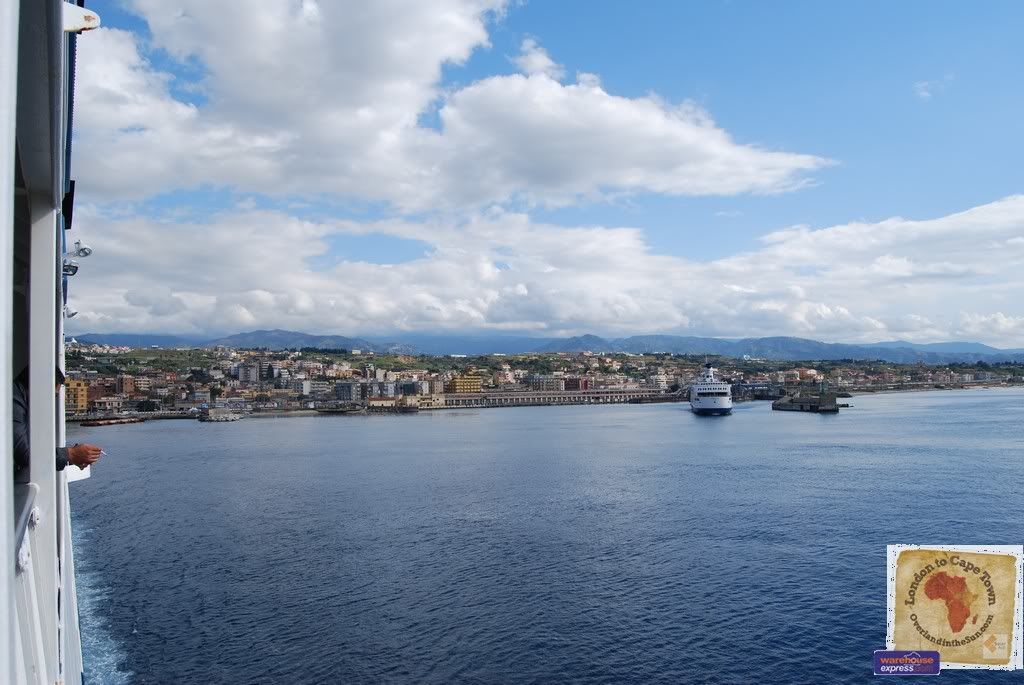 Ferry to Sicily – Shaun now sporting a small dent in his forehead from a Solar panel…
Sicilyfelt cleaner and more organised than the last bit of the mainland (isn't it supposed to be the other way around?) and following the coastal road to the capital (andportofPalermo) it was very beautiful.
Recent rains had caused land slips, the Autostrader was closed and then "main" road we were driving down was closed (completely impassable this time). We followed other cars straight up the side of the mountain, we had encountered what we thought were steep hair pin bends – but this was something else. Being dark and making up stories of "Italian Job" style Mafia high jacks probably didn't help either, I then made the fatal mistake of stopping halfway though the inside of a up hair pin bend to let a truck through. It made a very interesting hill start in the heavy landcruiser – but she made it.
We arrived inPalermowith plenty of time, but Italian road signs for the port were doing their usual trick of pointing us somewhere, then disappearing all together. We eventually found the port – but now under the allotted 2 hours of check in time. Would they let us onto the boat? Not another ferry missed…
The Port was deserted, do Grimaldi Lines exists? Was the website I book the tickets through genuine? We found the office – and we were booked onto the ferry, but the ferry was delayed. (it was supposed to leave at19/10/200923.59) They blamedTunisPort, saying that it was very busy – but the ferry hadn't even arrived back. It finally arrived and we were told it wouldn't leave until7am. We embarked and slept on the ferry.
TheZeusPalace(the name of the ferry) did set sail at7am, but as it had just been bought from a Greek company, it felt as if we were going toGreece– everything was in Greek!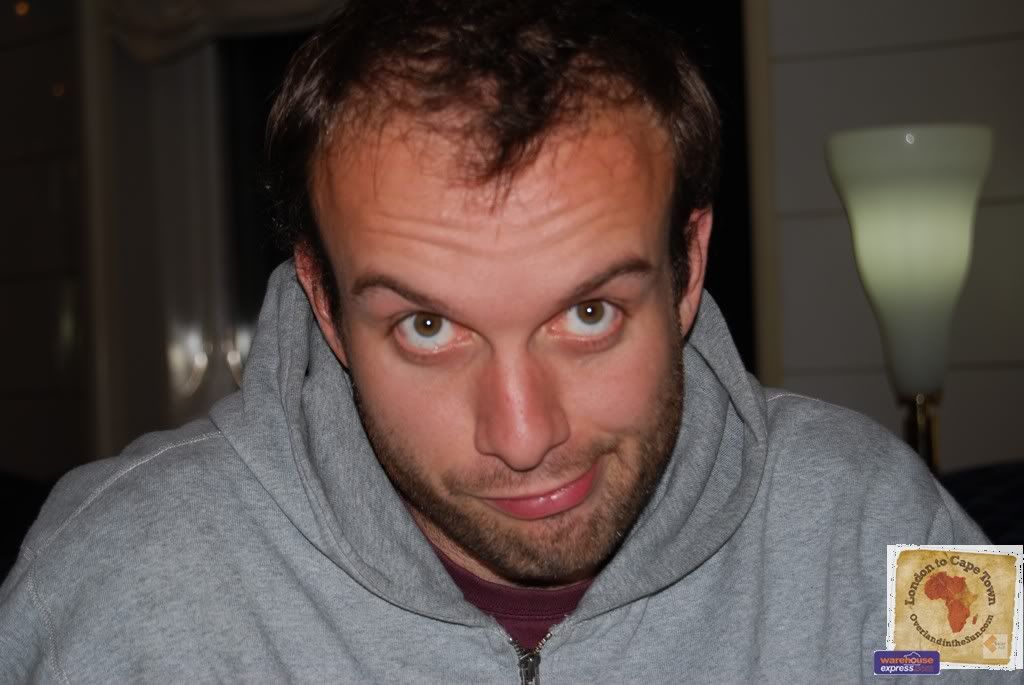 Sleep was very much needed on the ferry!
Waking up to take a last few blurry eyed pictures ofEurope, update Facebook and Twitter we were finally on our way toAfrica.
The ferry was empty, just a few truckers, a very helpful Sicilian tourist guide (who showed Americans aroundTunisia) and a seasoned Swiss traveller and his dog. There were 3 other (French / Italian) 4x4s – but only going as far asTunisiaorLibya. I expected there to be many more, maybe, we really were doing something a bit different.
6 hours later, we still could seeItaly– and there were rumours that we would be stopping inMalta. Then we were told we wouldn't arrive until9pm, a full 12 hours late.
It didn't matter that we were late when we could seeAfrica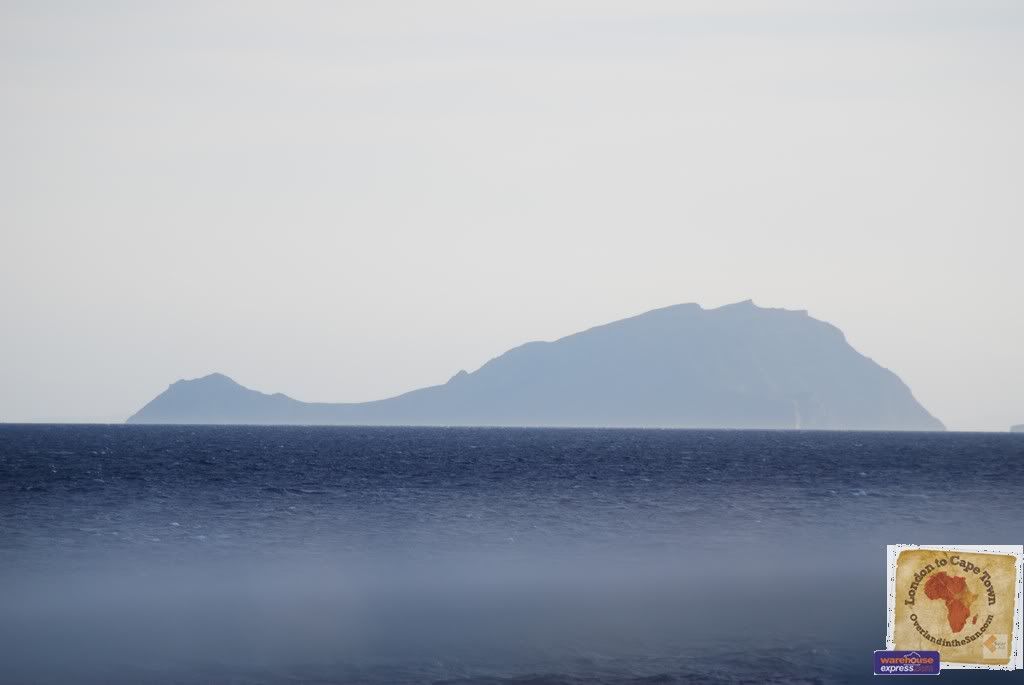 First glimpse of Africa through the zoom lens (Zembra Island)
Taking the scenic route inItalyhad been more of a challenge in terms of driving then I had expected forEurope. Things had already changed dramatically compared to theUK– we hoped we would now have more time to enjoy and discover these changes in detail inAfrica.
Key Facts
Solar installations; On petrol stations inSicily, also a fair number on commercial buildings and some on private houses.
Mileage 1251
Vehicles; Local police = Fiat Puntos, National Police = Alfa Romeos, Mafia = Lancia's (probably)
Cost of Fuel 131 Euro a litre (same aUK)
Coffee; Perfect – better from a vending machine on a motorway service station than what you would get in theUK from a Café! The coffee powder is the finest in the world – never any silt. This is apart from the Grimaldi lines ferry – which was only marginally better than SeaFrance (which has some of the worst coffee in the world!)
Food –
Other – surprisingly difficult to find those last few things we needed for the trip – should have waited forTunis.