Simple put, we will be producing less CO2 while doing this trip than we would normally living in the UK.
The pie chart below shows the UK emmissions make up in 2005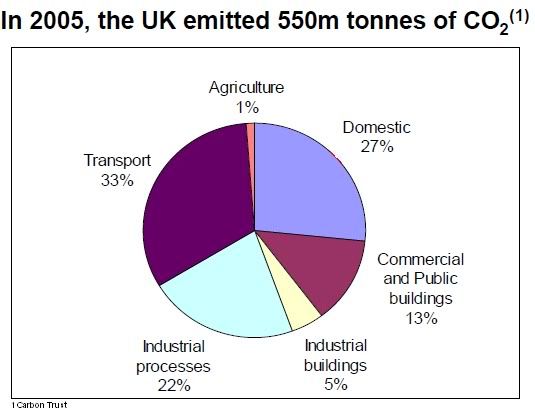 There are lots of areas where CO2 is emmitted, it isn't just from a car exhaust.
We will not be living in a house, we will not need heating, hot water or large appliances. I doubt we will be visiting many large shops and our food will have much shorter air miles.
However transport is the biggest sector (it does include road, rail, aviation and shipping) and we realise that driving a large 4×4 will make an impact – if we were after near zero impact we could perhaps cycle or even walk.The Solar Cycle Diaries is a great example of this (and also raising money for SolarAid)!
Unfortunately isn't always practical to cycle or walk and there will always be people who do not want to change there behaviour.We want to show that solar and appropriate technology can make a real impact upon climate change. Often creating more efficient technology is easier than changing peoples behaviour.
Raising money for a charity that promotes clean energy making sure we have as little impact as possible is incredibly important. The impact of climate change will effect African countries (and especially the rural poor) even though their emissions are far lower than ours.
Using the Act on CO2 calculator we have given some idea my (Gwyn) carbon foot print. Click on the logo to work your foot print out – and post it up below!
UK National Average Footprint

My Footprint in the UK

Projected footprint of the trip (for one person)


4.25

Tonnes per year


3.97

Tonnes per year


3.64

Tonnes per year

My UK footprint could potentially be smaller, but I live in a particularly leaky old flat. I don't drive to work as I cycle, which is the main reason why it is smaller than the national average.
For the Journey I have included some impact for cooking / utilities as we will probably stay a few nights in hotels here and there.We also will be taking a small gas cooker.The overall projected mileage of the trip has been divided by 3 as there will be at least 3 people in the landcruiser at any one time.
Due to limitations of the ActOnCo2 calculator I could not subtract any potential savings from the use of Solar on the trip. It is something that is quite difficult to work out before hand but will update once we are on the trip.
Interestingly if I was JUST to go to South Africa by plane – the impact on my footprint would be quite dramatic increasing it to 5.66 Tonnes per Year, way above the national average!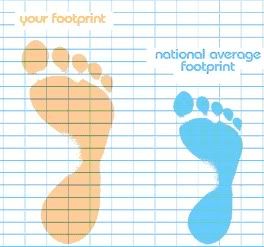 The figures are just a guide, and potentially our impact maybe smaller. We will be doing the following to reduce our impact still further;
While not always desirable we will be offsetting our emission direct to SolarAid via Gold Standard Carbon Credits
Firstly we believe that the spread of knowledge and ideas by travel will have more of a positive impact upon our world rather than sitting at home, believing misconceptions.
The Landcruiser is an old vehicle, which isn't the most efficient vehicle on the road but its simplicity means that it will last.A large amount of a vehicles emissions are in its manufacturing process, buying new doesn't always offset this.So it is good to reuse and rebuild
Modifications to help improve MPG (including Solar)
Using Waste Veg Biofuel (i.e. used chip fat) where ever possible (not new biofuel though as this has cause shortages of food in Africa)
Keeping the Landcruiser well serviced will reduce emission
Driving in a way to reduce emissions, smoothly and looking well into the distance.
We also will be using very little water (average UK person uses 150liters per person per day) and I would have thought our food miles will be greatly reduced.
This website is powered by Solar powered servers – the internet is the fast growing carbon emmitor and will overtake the airline industry in the next few years. What are you doing to help reduce its impact?