The Start…
It didn't feel like much of a start; not being able to say goodbye to many friends and then getting stuck in South London traffic, it just felt that we were going for a short drive to France. We were supposed to have a proper leaving event at Marble Arch but the Landcruiser didn't want to be there – instead we just slipped out of London like every other anonymous car.
We had not being able to promote SolarAid or show our gratitude to our sponsors, and then we missed the second ferry that we had booked! (by 10 mins).
But the sun was shining and we could easily see France from Dover(the clearest I have ever seen it). Sunshine and clear skies always makes things better.
We made it to Dover – what a relief! [Ryan, Shaun, Gwyn]
France from Dover
Ryan wondering what mainland Europe would be like – his first time!
When we arrived inFranceit was soon getting dark and we needed test how to set up camp. We hadn't had a "dry run" of testing all the gear, but it all seamed fine. However, the problem with clear skies is that the temperature falls quickly – we woke up to find ice on the roof top tents bbbbrrrr.
The plan…
The plan inEuropewas to follow the larger main roads, but try and avoid the tolled motorways, however it was too slow and we had a ferry to catch in 1600 miles / 5 days.
The Solution…
To drive on the tolled Autoroutes, late into the night, to reach theAlps. It wasn't so bad, the landcruiser can just about do French speed limits and the road was empty.
Waking up to Mont Blanc – finally it felt as if we were getting somewhere and winding through the Italian Alps the next morning was something new to us all.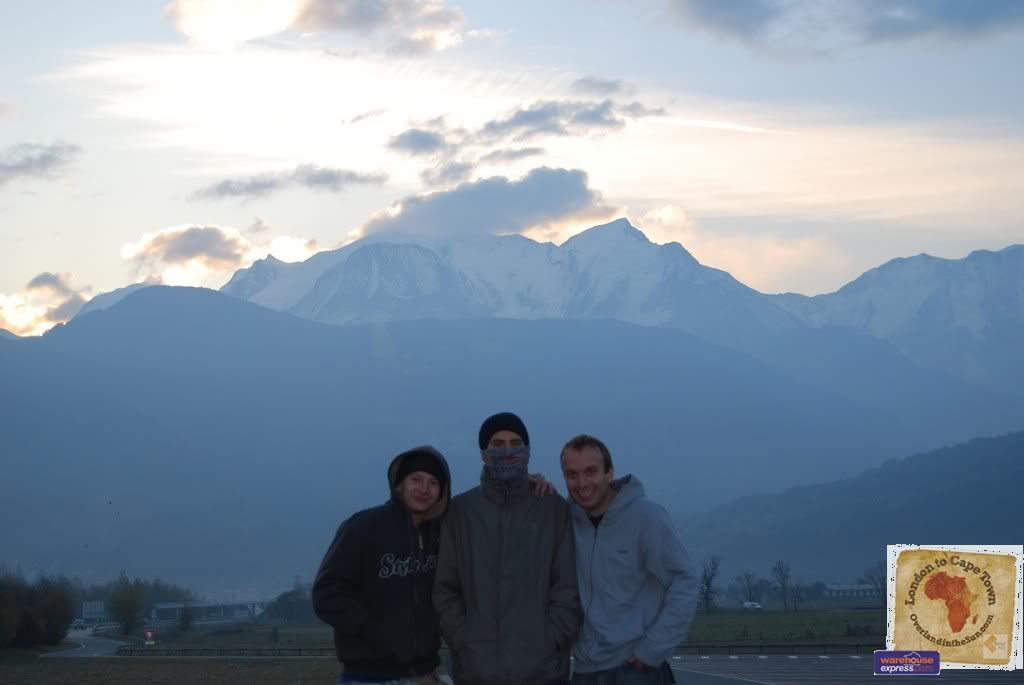 Was this to be the last of the cold? In the Alps..
Key Facts – France
Solar installations – much of the driving was in the dark – but there were a few Solar powered signs
Mileage – 673
Vehicles – No old landcruiser, just standard Europe cars
Cost of Fuel – 97.9 Euro a litre
Coffee – Didn't have any
Food – My first time in France not to have mussels (moules) – sorely missed
Other – It is colder in Northen France than the UK