It's a strange feeling reaching Cape Town, could the journey really be at an end? Much of South Africa felt like home in the UK and I hadn't quite had enough of Africa. I wanted a little encore! So my flight home involved a little 6 day stop off in Ethiopia.
Flying over all the wonderful people I had met in Mozambique, Malawi, Tanzania, Rwanda, Uganda and Kenya was really sad. Even though it was dark I kept looking out the window to see something familiar, is that lake Malawi glistening in the moonlight? Flying in general seemed like a strange experience and certainly lacking in something!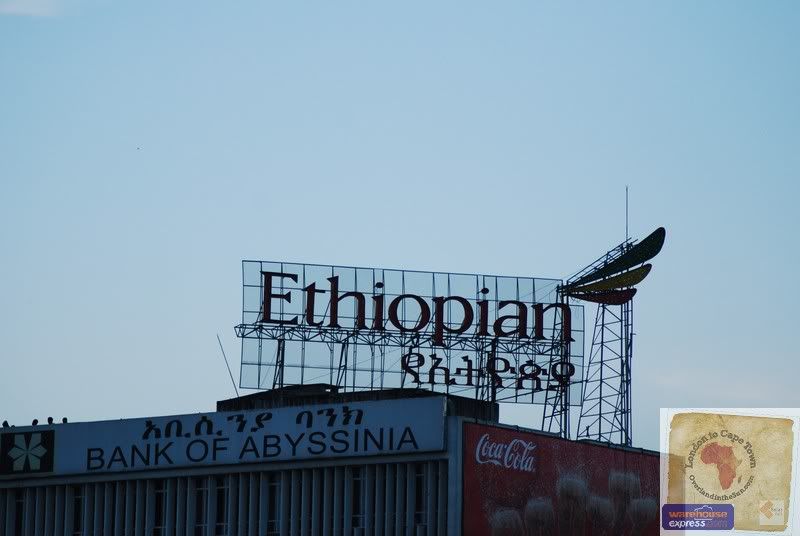 ---
Arriving in Addis I was greeted by a familiar face, Nigisti who came traveling with us. And off we went in a Lada taxi into the town. I couldn't believe that it was nearly 7 months since I was last here, it all felt familiar as if it had been a couple of weeks.
Nigisti filled me in with what had changed, an election had been and gone peacefully, with the government promising a 5 year renaissance for Ethiopia, with massive investment in infrastructure. It all sounded a bit old soviet block to me, but I could see that there were new pavements being laid, roads tarmaced and even more buildings on being built. Soon after the elections mobile Internet had been enabled, there was certainly a clampdown on communications when we were last there before the elections, so perhaps this was a sign of things to come? Sadly it's still not particularly easy to get hold of an Ethiopian sim card for a foreigner and with only one provider the network is not good. MTN is the provider (sponsor of the South African World Cup) which generally seems to have pretty rubbish connections all over Africa, including South Africa.
After the South African towns, Addis felt relaxed, polite and substantially safer. There was no menace that I had felt in South Africa. Minibus taxis would wave you across the road, as apposed to aiming for you and making you run ( like everywhere else). The beggars on the street (fewer in number) often sing 'welcome to Ethiopia' while asking for just 1 birr as apposed to threatening to mug you for all you have got. Africa certainly is a place of contrast.
I then started to remember what I felt last time I was here, Addis felt like the bustling noisy slightly edgy place, full of people, particularly after the deserts of Sudan. It really did feel different, do you really judge a country by what comes before? I wondered what it would be like to fly from Johannesburg to Sudan!
After sorting some business in Addis we decided to be tourists and head off for Wondo Genet. Wondo Genet (Green Heaven) has super hot and cold springs, it was one of the Emperor Haile Sellasie favorite places, he built a interesting Palace (now hotel) with spring water showers and pools, with beautiful flowers and coffee trees in the gardens.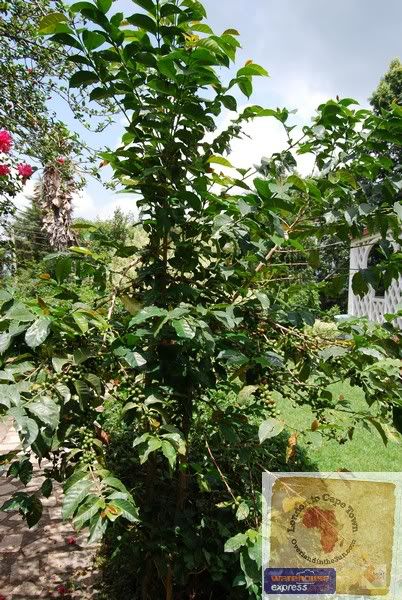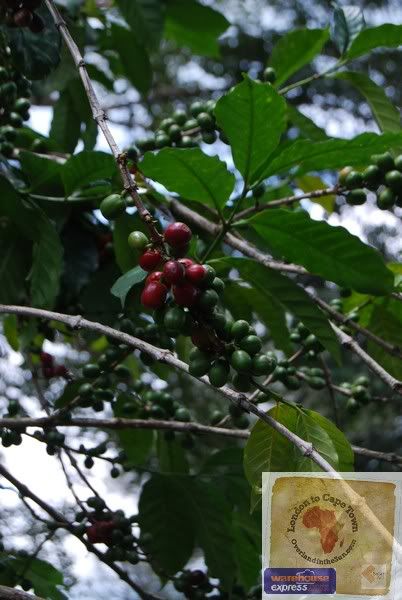 Ethiopian coffee tree and beans
Emperor Haile Selassie Palace (hotel) Wondo Ganet
The hot springs which feed the showers and pool at the hotel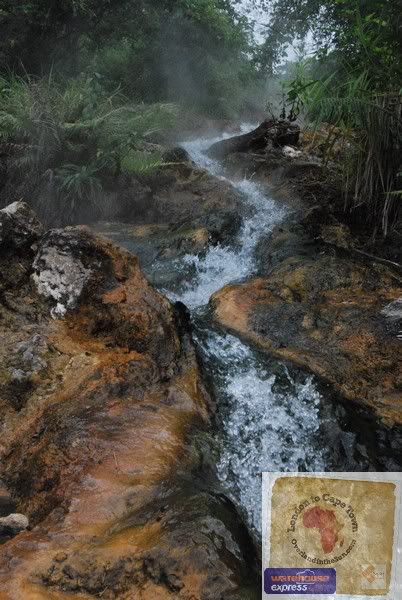 Then we climbed to 2500 meters..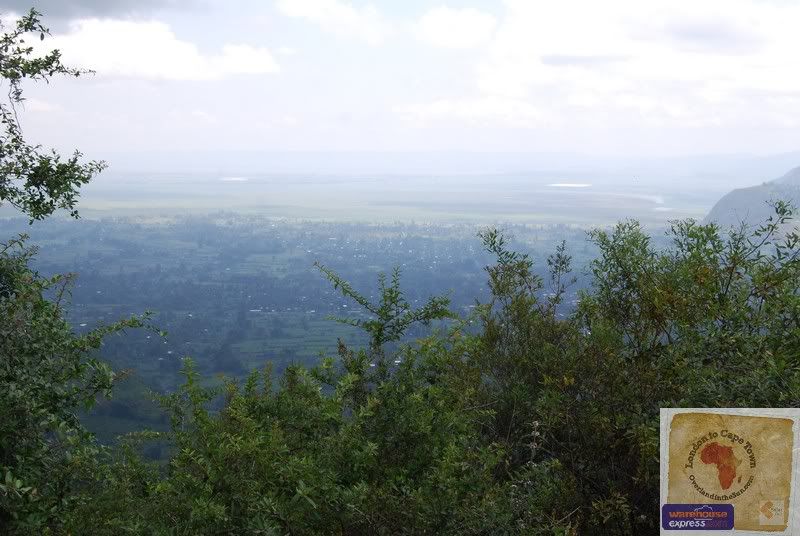 Traveling by bus in Ethiopia was a little different than by your own car, interestingly we covered more distance in less time! But many Ethiopians especially elders do not like the window open. It's a long held belief that colder air will make you ill. The buses are also made for Ethiopians, who are generally shorter than me! ( read painful legs after 6 hours..)
We hadn't quite left the independent overlanders though. Noticing two motorbikes with Johannesburg number plates I wondered if they where anyone I knew? In the restaurant that evening in walked a familiar face, who Ryan, Sisi and myself had met in Malawi. He had also met Stephan previously to us in Malawi ( when he was racing ahead). It was nice to compare stories.
The next day we headed back to Addis, the bikers overtook us (while we were on the bus) and we wondered where we would meet up? The following morning we were going to an familiar hang out for breakfast (Olso Cafe near Thiatu Hotel) when outside there was the two South African Bikes, but also a grey Yamaha Tenere. I had to double take, but no this wasn't Stephans bike as it had UK number plates! It turned out to be someone who worked in a similar world as me back in London and we had familiar colleagues. Africa really is a small place! We left saying goodbye and see you soon, not really knowing where in the world we will meet up.
As ever my timings were perfect and the whole of Meskel Square was full of people to wish me fair well from Ethiopia and Africa! My goodbye party was going to be awesome! I soon learnt that it was nothing to do with me (arhh!) and it was the festival of the finding of the true cross – that Jesus was hung on, Meskel celebrations. It turned out to be an amazing spectical. The last Ethiopian dinner was special, with old a new friends and great food. One night I will never forget.
Lots of people turned up to say goodbye to me!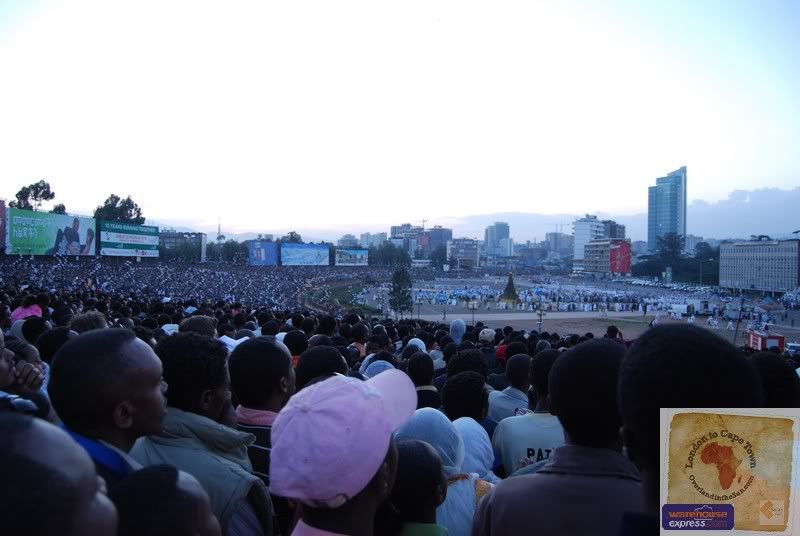 Climbing the advertising boards to get a better view
Or to read from the bible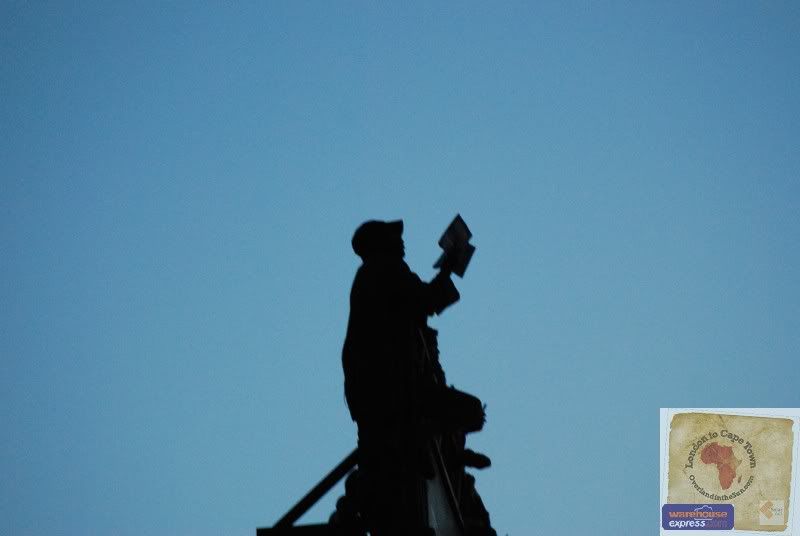 The clergy gather around the pire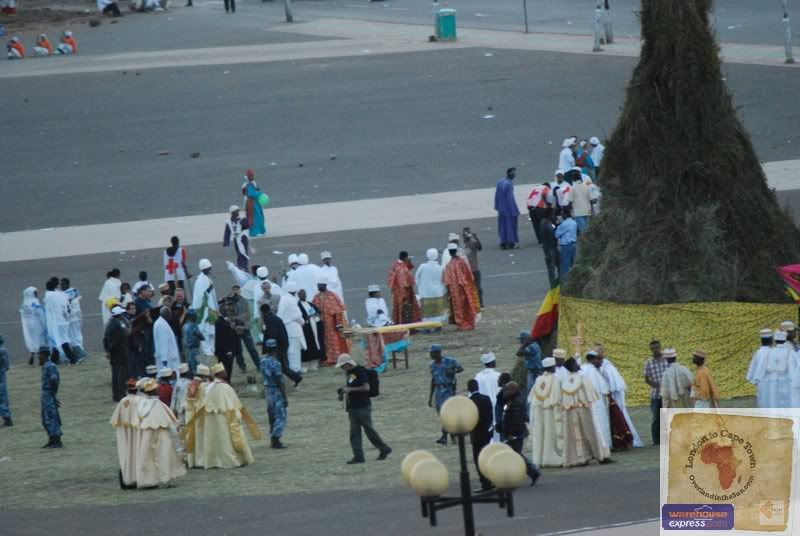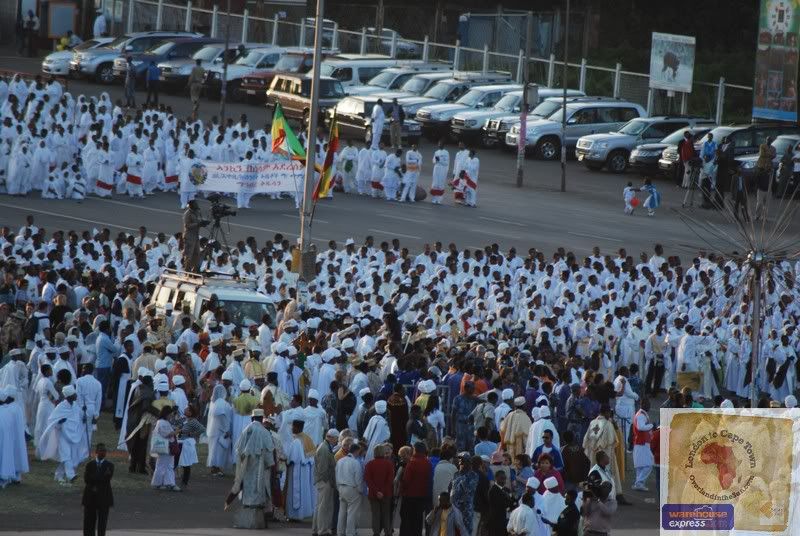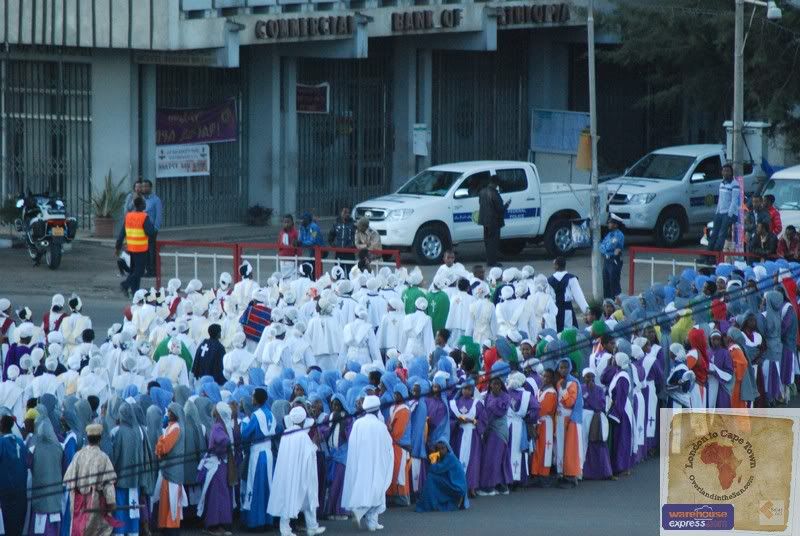 As the light went down the sandlewood flames where lit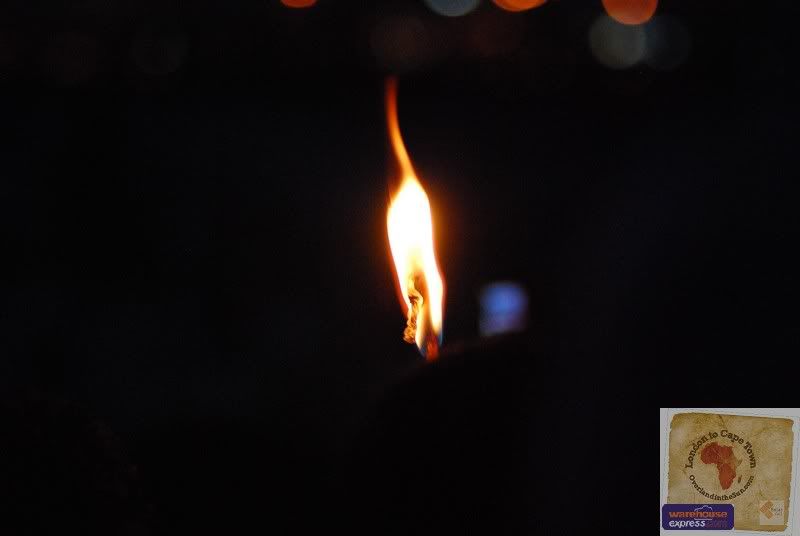 As the fire is lit the blue screens of mobile phones and cameras come out…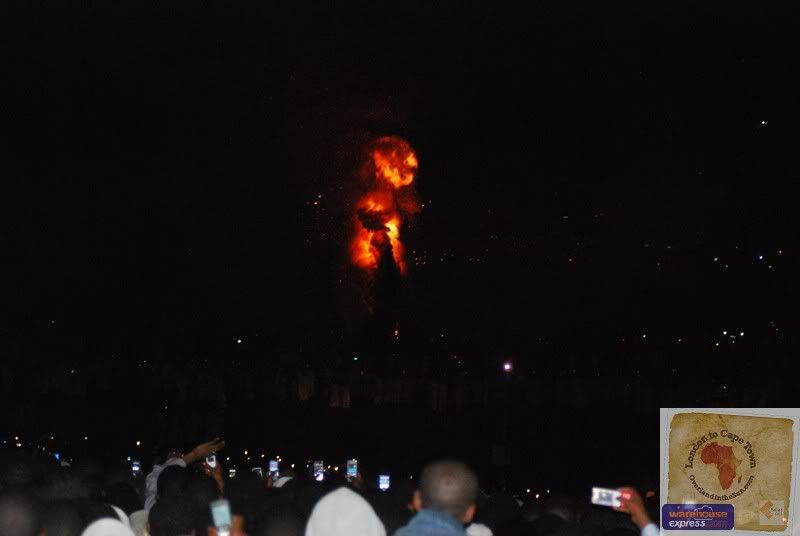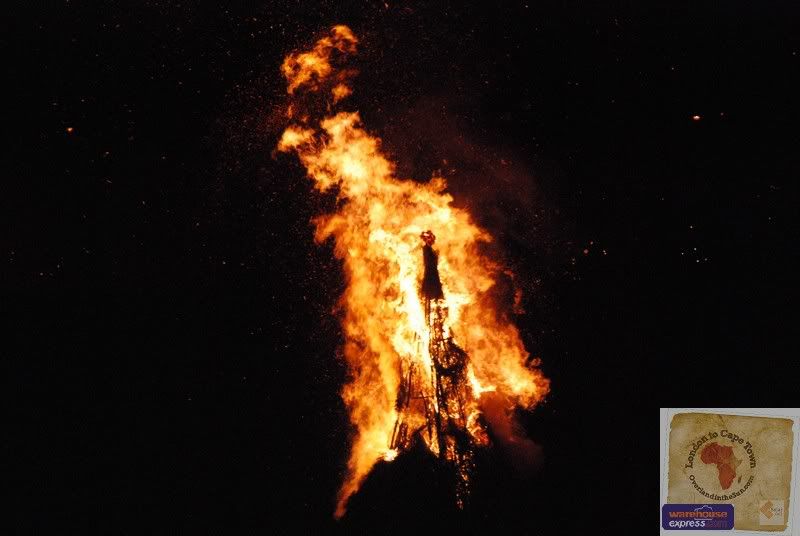 Rattling home in the Lada taxi (managing not to fall out this time!) while I was excited to be going home, It dawned on me that this would be my last sights in Africa for some time, I was genuinely sad.
I wrote most of this sitting in Bole (Addis) airport drinking my last Ethiopian Macchiato, I'm eating a burger, because they couldn't make me an omelette ( even though the burger has an egg, tomato and onion in it!) I haven't managed to shower in the last two days because the water in the house has been switched off. But who cares, I have loved my little encore.