Egypt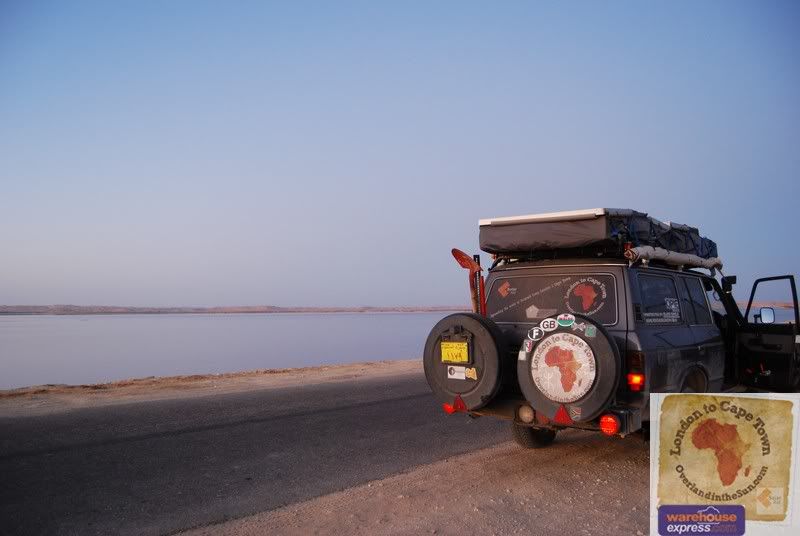 Money Money money money – that is my first impression of Egypt; everybody wanted money from us. Egypt had already made our Carnet more expensive (we had to insure against 800% of the value of the vehicle) now when trying to cross the border there where more fees. Custom fees, Registration fees, Insurance, Carnet Fees, even car parking fees (even though we just, and had to, drive through the car park), then there were the fees associated with finding the chassis and engine number; Egyptians don't believe European documentation and have to take an actual rubbing themselves (looking back this fee was worth it for the comedy value of watching 4 officials cleaning away 20 years of engine grime to find that indeed the number was the same as my UK registration certificate). We left the Egyptian boarder post a full 7 hours after entering the Libyan side – we where through and things were looking good. It was sunny, we managed to avoid emptying the boot and putting everything through the scanner (our tactic of having lots of mess and taking lots of small things out seemed to be working!) They where happy about just scanning Shaun's guitar. They also had not noticed the solar panels on the roof – which could have cost us a nice big import duty. Ryan also informed me that it was more like 8.5 Egyptian pounds to every UK pound rather than the 5 I had been thinking. It was also sunny! (I'll write that again, it was Sunny – no rain!
Egyptian number plate – something that took around 5 hours to achieve!
All the guide books said that it was impossible to camp between the Libyan boarder and Alexandria (about 7 hours drive away). It was getting dark and we really didn't want to drive all that way. Our first night was spent at the check point for Salaam, just over the boarder on the beach. Unfortunately the British had been unable to clear the mines they left on the beach since the second world war and there was also an army base (who we were told would shoot us if we went anywhere near the beach). Oddly between the army base, land mines, check point and locals doing donuts in the cars on the road we felt very safe, but not really any further away from being in a police state than we were in Libya.
Check point camping. Ryan is really wanting to run into the sea, but can't due to mines / army
Egypt is the most visited country by westerners on our entire trip, it has been for centuries, we were all looking forward to the ancient wonders that the country has to offer; Cairo, the Valley of the kings, Luxor and of course the Pyramids of Giza but first we wanted to see some less well know areas. Having really only travelled on the coast in Libya it looked like a good idea to travel to inland to one of the desert Oasis's. Siwa, about 300km from the coast sounded beautiful, it also was reasonably close to Libya – so we hoped we may get a small taste of what Libya might have been like further inland.
Our landcruiser isn't fast (it doesn't need to be) but for some reason on roads that are straight, open and in the desert with practically no scenery it never really wants to go above 60mph. Why,Ii do not know – where there is traffic, bends or hills it will quiet happily pootle upto 80mph, but straight flat desert road it wants to just stroll along. I put it down to head winds. Long straight roads at that speed make you want to fall asleep while driving mind! This meant that we split the drive into two days, have a night camping exactly 150km away from anything – (and a full moon) Awesome!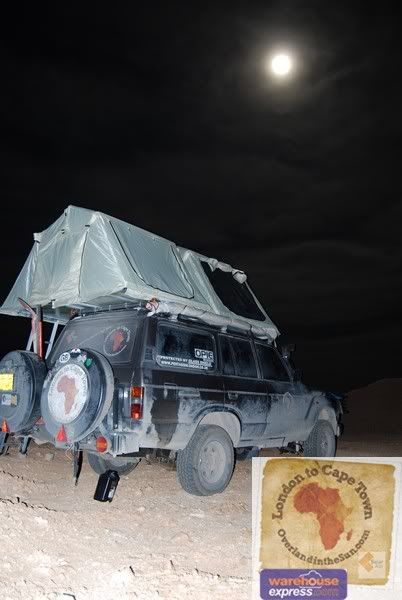 Siwa struck us straight away – after all those long miles through nothingness it was amazing to see life, and palm trees. We quickly bumped into an expat English family who pointed us in the direction of an amazing hot water spring (Al Maza), where we camped for the night.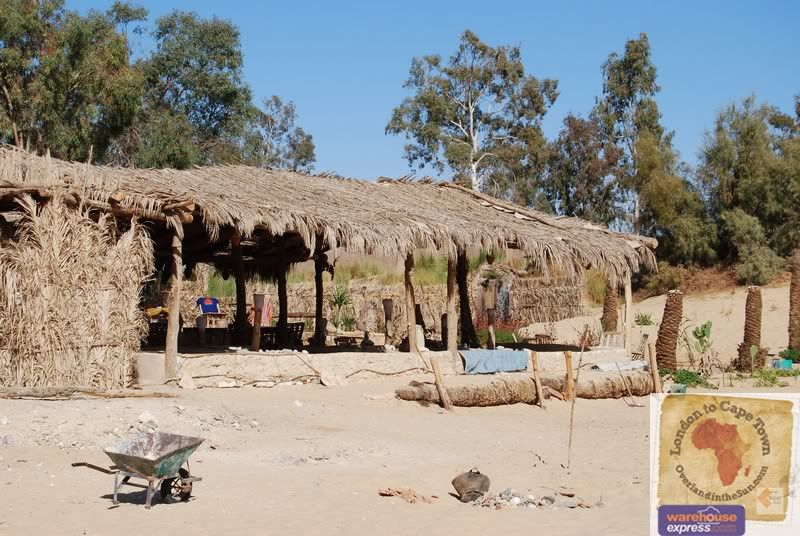 Spot the SolarAid T-Shirt drying in the Sun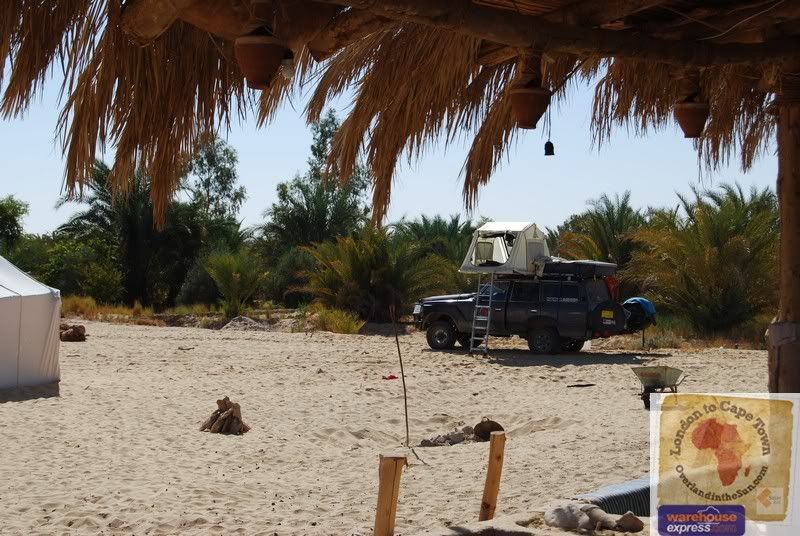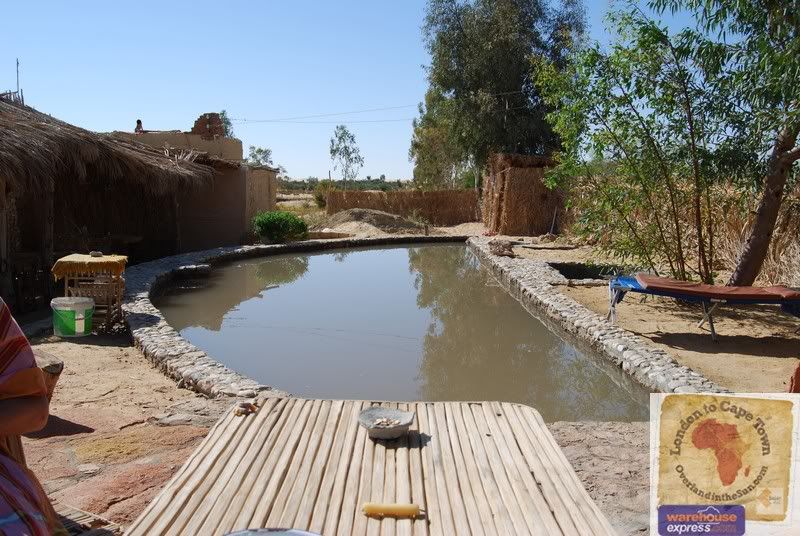 Al Maza Hot Spring. Looks a bit murky, but it really was amazing to get clean in!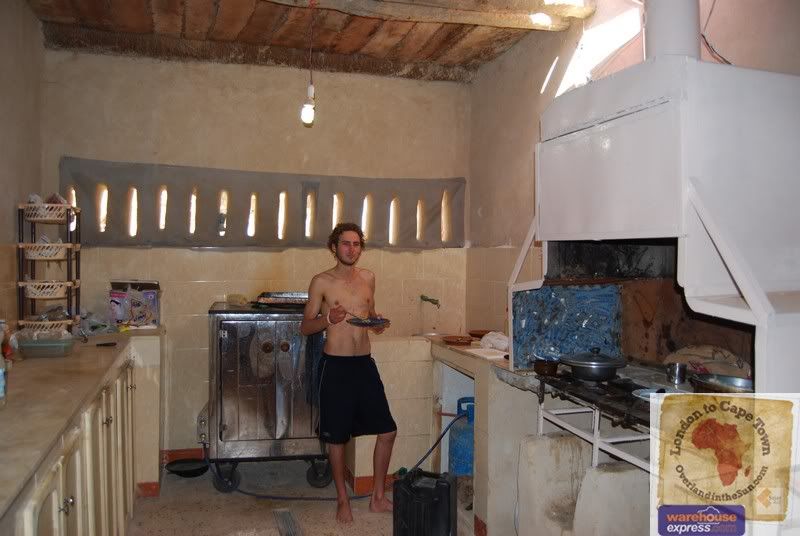 Cooking with Gas, everybody likes cooking with gas
The next day we met with Sasha (the eldest daughter of the family we had met) who took us to a salt lake where we floated in the 40cm of salty water and watched our best sunset so far. I was feeling ultra clean by this point; hot soak at Al Malza last night and swimming in the salt lake today (followed by a deep fresh water spring rinse).
This night we met some fellow travellers (and some cool locals) at a desert party, something that was very interesting to get to in our 2wd landcruiser (have a watch of the video to see why)
Sunset over salt lake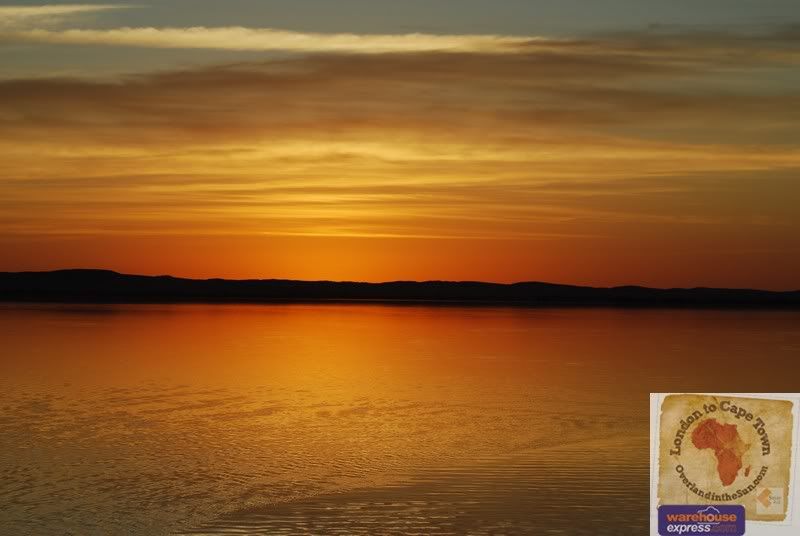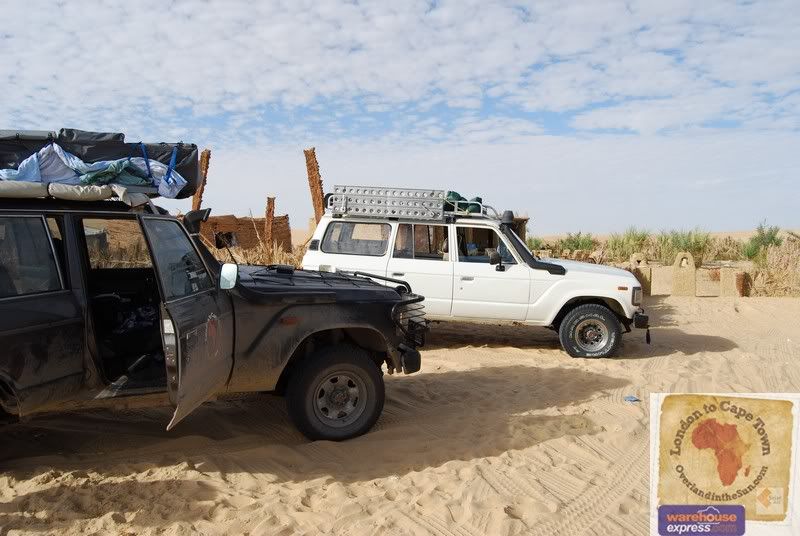 My HJ60 Landcruiser had lots of '60 brothers. All the local drivers thought ours was in amazing condition and loved the 195litre fuel tank. Apparently it would be worth around £10,000 here – hence the 800% carnet required.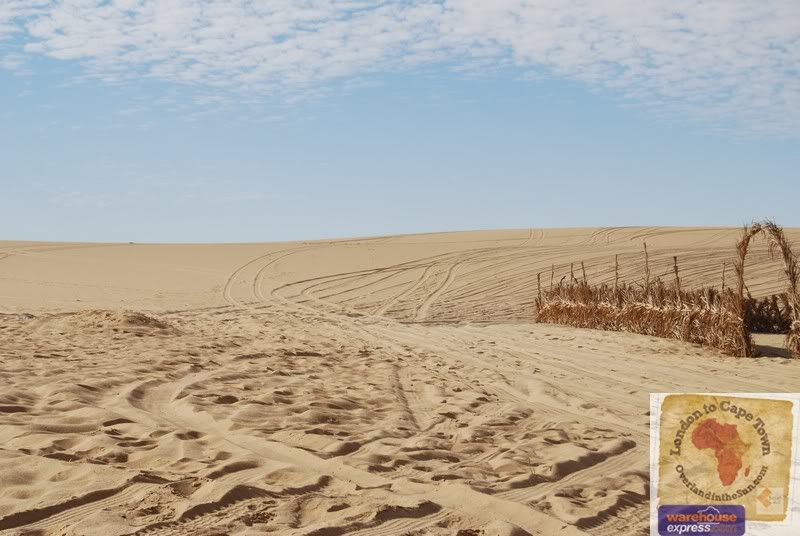 Drove (and got stuck) over these soft sandy dunes to get to the party…much fun in the dark!
Shaun's family where on the Sinai in Dahab and we all where keen to catch up with them, we also wanted to take a little bit of Siwa with us, so Sasha joined us for our little "Holiday from Travelling"
Siwa and Sinai are on opposite ends of Egypt, Sinai is in fact in Asia a land which in the not to distant past has been fought over time and again. Arriving in touristy Dahab was a little strange after all our experience (indlucding getting lost in the centre of Cairo!). The hotel (Hotel Tropital Oasis) that Shaun's family where staying in very kindly allowed us to camp in the car park in the front for free – and allow us to use there beach and jetty to go snorkelling off.
Dahab is a relaxed place to have our "little holiday from travelling" snorkelling everyday and wondering around the town with all the restaurants and shops, we could easily have forgotten that we had actually driven there, rather than come by plane like everybody else there. I say almost forget; one thing I think that stuck at the back of all our minds was our quick tea stop on the way to Dahab in the Sinai mountains. This area used to be an Oasis, but now the date palms were slowly dieing – so much so that there where very few dates. We were shown the a water well, that only 2 years ago the water was only 4 meters away. Now we couldn't even see the water (at least 40 meters away). Why is this? Climate Change? Probably plays a role, but the resort towns of Dahab, Sharm El Sheik and Taba have no local fresh water supply. All the drinking water is either bottled water from Oasis such as Siwa or from the hills where we had been shown the empty wells driven daily into the resorts by water trucks. Simply by being there we would have added to this situation, but we know that our water consumption is around 20 liters for all 3 of us a day (much lower than the UK average of 150liter per person) and hopefully by writing about it will make others more aware of their impact and help to reduce it. I also had been made aware that money from tourism had paid for more reliable water supplies in the mountains.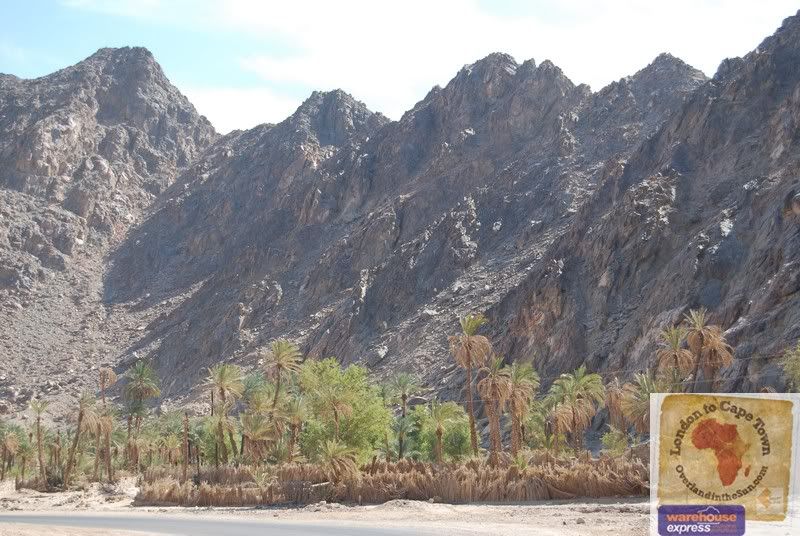 Date Palms going brown due to lack of water.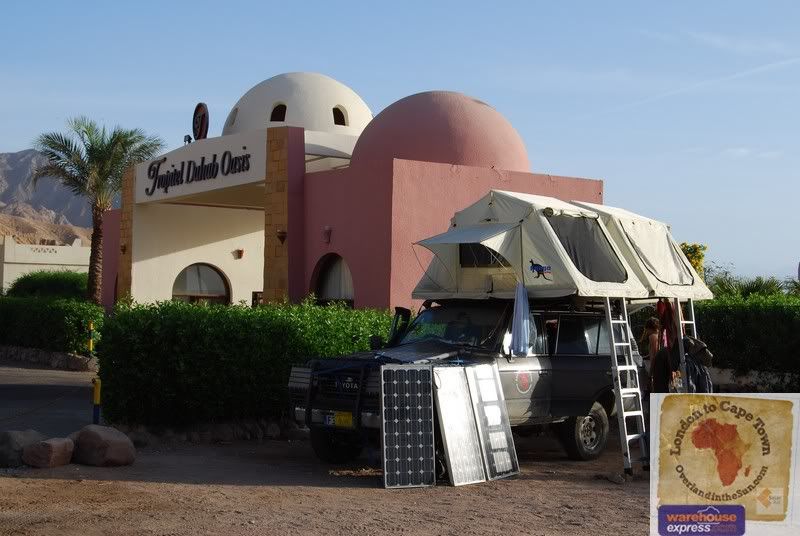 Hotel Tropital Oasis – our camp for a few days right next to the main entrance – we were a bit of a attraction for the guests!
After Dahab we drove the short distance to Taba. Trying to be clever we thought it would be nice to find the town. We kept on driving until we got to the third check point, which was actually the boarder with Israel. We had to reverse otherwise we would have crossed the boarder! Having Israeli stamps in our passport would have meant that we would not be able to get Sudanese visas, it was also somewhere that was way off our itinerary! There is no town to Taba, it is just a series of resorts.
Camping near Taba. On the other side of the Red sea you can see Saudi Arabia (with Israel further north)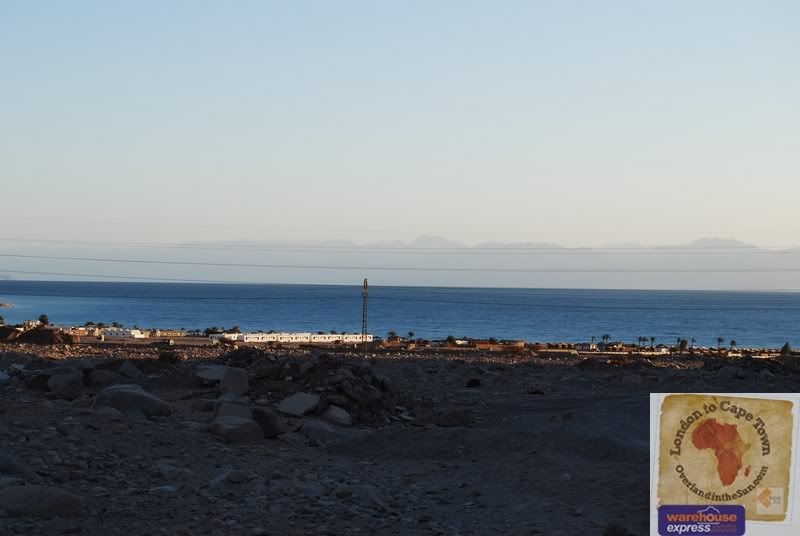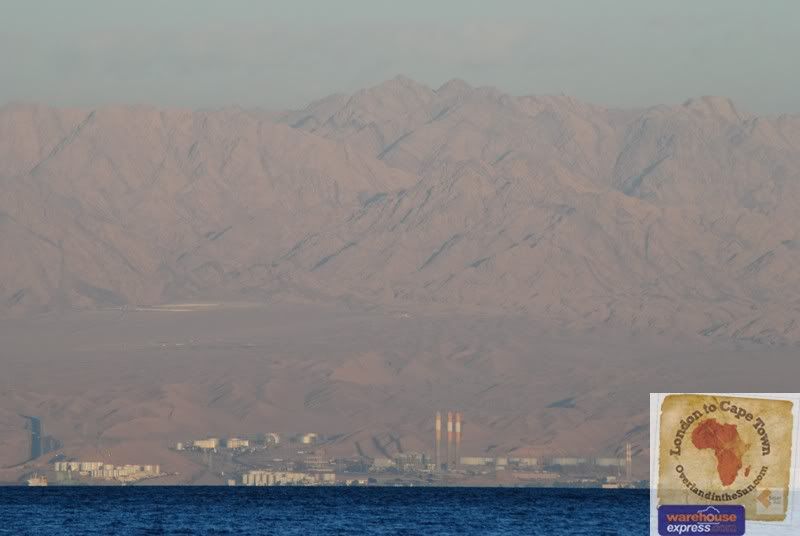 Taba we met with Niki and Flow, (part of the extended SolarAid family..!) after some refreshing Scuba Diving we all eventually came down with our first bit of travel sickness – on a 5 star resort. Luckily we were very well looked after. For future reference if anyone needs to camp wild near Taba, it isn't easy. The police will prevent you from going up the mountains and the hotels will not let you near the beach. After a bit of trouble we found it easier to head back towards Nuweba away from the Israeli boarder.
More updates from Cairo shortly!